Regulation, the UK's premiere London based adult fetish clothing and accessories store, has become a brand name for very high quality rubber, leather clothing, equipment and first-rate customer service.
Regulation stocks over 5,000 products, with new items being added weekly, and here's a few Christmas present ideas you can pick up in store or online at www.regulation-london.com.
METAL PLUG SHOWER HEAD 
Fancy some horny arse stimulation while you're in the shower. Well, try this metal butt plug shower nozzle. It screws onto your standard shower attachments and features a built in stop button for better control. Perfect for douching or enema play! £49.00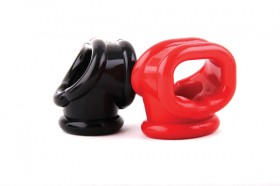 COCKSLING
Created by Oxballs, Cockslings have become a worldwide best seller! They're made from a super stretchy synthetic material and wrap snugly around your cock and balls. And the best thing about Cockslings is that they'll push your meat and two veg forward under your jeans to give you a great looking packet! Available in Black, Red or Clear. £29.00
The guys at Regulation have engineered these low rise, trimmed briefs for the hottest pouch and bum possible, and they sure are sexy-as-hell! Keep it minimal and wear them on their own, or wear them as an added surprise under your rubber layers. £39.00
Regulation Ltd., 17a St Albans Place, Islington, London, N1 0NX
Phone: 020 7226 0665
Email: [email protected] 
www.regulation-london.com
Opening Times: Mon to Sat: 10:30am – 6:30pm, Sundays: 12pm – 5pm
.