Together with the every day items that all gay men need like DVDs, magazines, fashion, underwear, gifts, aromas, lubes and sex toys, UK-based online store QXShop also has a huge range of products for the more experienced sex player.
Steel Expanding & Locking Butt Plug £179.99
THIS steel Expanding & Locking Butt Plug is the perfect toy for guys into arse play. To use as a regular butt plug, insert the cool steel bulb into your (or your buddy's) arse, and leave the rubber ring in place together to maintain the traditional plug shape. But for a completely different sensation, after sliding the plug into place, press down on the outer steel disc at the base of the plug and the three steel petals will spread open and 'bloom' inside your arse! To keep this devious device spread open, just attach the padlock through the post at the base.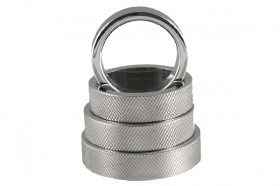 Knurl Cock Ring £24.99
If you want a cock ring that shows you mean business then one of these solid stainless steel Knurled Cock Rings is for you. Its interior has a polished mirrored finish making it comfortable to wear, while the outer edge has a knurled texture cut into it, so you can get a good grip even with lube on your hands. It comes in Small (45mm), Medium (50mm) & Large (55mm).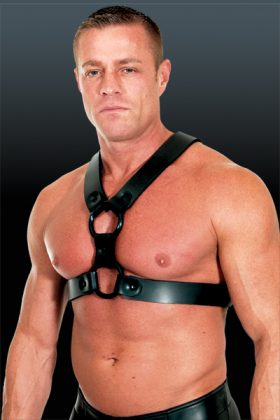 Neoprene Neo-Skin Harness £54.99
This hot looking harness has no snaps or fiddly buckles. All you do is stretch it and pull it on… Easy! And made from neoprene, this harness not only looks sexy as hell but it's also really comfortable to wear. Even the rings are made of rubber, making the whole thing waterproof, grease proof and very durable. The Neoprene Neo-Skin Harness comes in Black, Black & Blue and Black & Red and is available in two sizes – Small-Medium (chest size 36-44) and Large-X-Large (chest size 44-48).
Oxballs Cone Anal Lock £79.99 (RRP £99.99)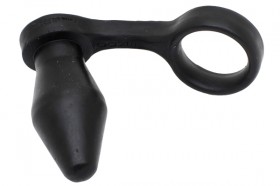 The Oxballs CONE has taken the UK by storm and is great for arse play! It features a conical butt plug measuring a little under 2 inches at its widest point and can be inserted up to 3.8 inches. The Cone's made from 100% super stretchy silicone, meaning it's a better fit and more comfortable to wear, and the cock ring's very stretchy too and should fit anyone.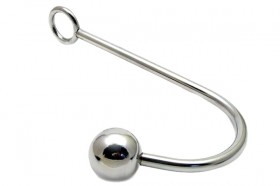 Anal Hook £34.99
This impressive steel hook can be hooked up to ropes and other bondage equipment, making sure it keeps a strong hold on its wearer. The ball measures 1.5 inches in diameter, with a 5-inch circumference, and can be inserted up to 5 inches.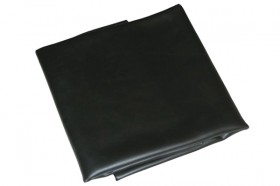 Neoprene Play Sheet £49.99
This 4ft x 6ft easy-to-clean Neoprene Play Sheet is perfect to throw down quickly for when you don't want to get lube (or other liquids) on the shag pile or your Egyptian cotton bed sheets. Simply throw it over your bed or spread it out on the floor and you're good to go.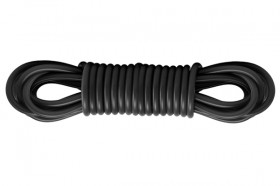 20ft Fantasy Bondage Rope £29.99 
Made from 100% medical-grade Elite Silicone™, this 20ft Fantasy Bondage Rope is hypoallergenic, phthalate-free, latex-free, nonporous and is the safest sex toy material on the market today! It's perfect for guys who simply want to tie their partner's hands and feet, but durable enough to use as a serious restraint!
• You can order these great products plus loads of other pervy gear from www.QXShop.co.uk, the online store that's constantly seeks out the latest 'must-have' items and where you'll always find loads of special offers, all at great low prices. 
WIN!
A KNURL COCK RING
All you have to do to be in with a chance of winning this superior cock ring is go online to www.QXShop.co.uk and tell us what its Product Code is. Email your answer, with together with your name and contact details, to [email protected] placing QXShop June Competition in the subject field. Or post your answer to QXMEN, QXShop June Competition, 23 Denmark Street, London WC2H 8NH. The closing date is Saturday June 30th at 5pm when the winner will be drawn at random… Sorry guys, but the competition's open to UK residents only.
.