NEW AND UPCOMING RELEASES THAT LOOK HOT!
REVENGE
Sebastian Young is well known in the gay community for being the hot bisexual lad who was a former Jet Set Men exclusive and now is the star of CockyBoys. He recently served a two year sentence in prison and the week he was released, was straight back into porn, making this brand new film, Revenge. The film takes Seb back to prison and gives us a taster of how he spent his time banged up, fucking other inmates. And he gets his comeuppance in the final scene when Phenix Saint fucks his tight, little hole without mercy. There are six scenes in total with eleven guys.
• Available from Prowler, Expectations, White Tiger and all good DVD stockists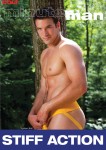 STIFF ACTION
COLT Man Tristan Bull is an all American jock and a vision of perfection who treats us to a very special one-on-one experience inMinute Man 36 – Stiff Action, a compilation of some of COLT Studios' finest hunks knocking one out in front of the camera.
Now it's not often that watching a guy wank his cock turns us on, but believe us when we say that when this guy shot his thick and heavy stream of cum, we too.
• Available from COLTstudiostore.com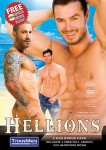 HELLIONS
A hellion: Look it up in the dictionary and you'll see that it's a mischievous, troublesome, or unruly person. We love devilish behaviour and the guys have it in bucket loads in TitanMen's latest release Hellions.
Watch as TitanMen exclusives, the impressively hung David Anthony, Jesse Ares and Dean Flynn are joined by Dirk Caber, Ethan Hudson, Junior Stellano, Spencer Reed and hot new-comer, German-born 6 footer Jessy Ares as they fuck their way through scene after scene of mind blowing sex.
• Available from www.TitanMen.com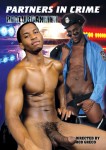 PARTNERS IN CRIME
If you have a penchant for guys in American cop uniforms then Real Urban Men's Partners in Crime will make you blow your load! These hot black mutha fuckers are as good as it gets and watch as they fuck their way through fellow officers and younger partners as guys dressed in New York City police uniforms.
These black boys in blue show us why they are called "New York's Finest", when the handcuffs and badge are put away, the uniform comes off and those huge thick black nightsticks come out!
• Available from Prowler, Expectations, White Tiger and all good DVD stockists