If you want to look hot on the beach this summer there's only one brand of swimwear you need to be wearing, and that's ES Collection.
This is just a fraction of the sexy swimwear in the ES Collection, which includes sporty trunks and bikini briefs to more grown up, but still incredibly sexy, swim shorts and boxers.
Designed and made in sunny Barcelona, ES Collection's swimwear is guaranteed to flatter you in ALL the right places thanks to the sexy cut of the fabric and ES Collection's innovative 'Pack Up' system. What's the 'Pack Up' system we hear you ask? Well, it's an ingenious padded front pouch, which can easily be removed if you're lucky enough not to need a little bit of extra padding. But for those cold water moments and inevitable 'winkie shrinkage' the ES Collection 'Pack Up' system is a Godsend!
---
KUNASHIR £59.99
These cute little denim effect trunks are detailed with little metallic studs and have a pocket on the back and side. Available in black, charcoal, navy or white.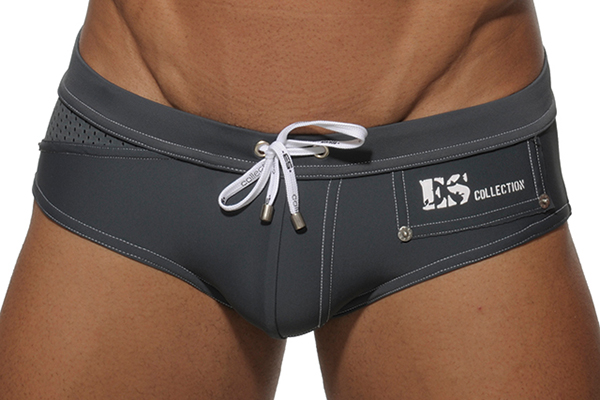 ---
JAVA £59.99
Sporty, low cut and very sexy, you could pretend that the Java's embroidered number 25 is your age. Just don't attempt this if, in fact, you were born in 1925! Available in black, charcoal or white.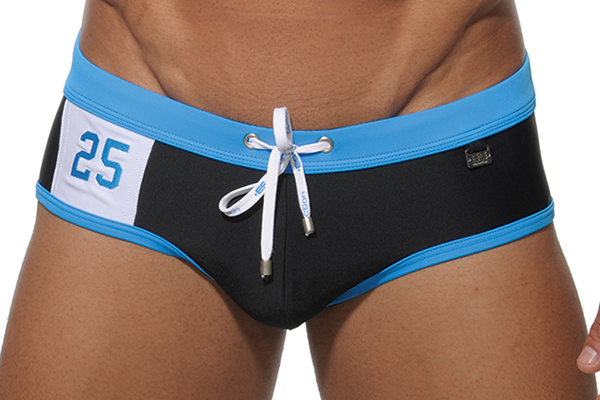 ---
ISLA AVES MINI BRIEF £64.99
And if you're feeling really daring then get yourself some Isla Aves Mini Briefs. They're fitted with quick release clips on the sides – perfect for when you need to get naked at the drop of a hat! Available in black, red or white.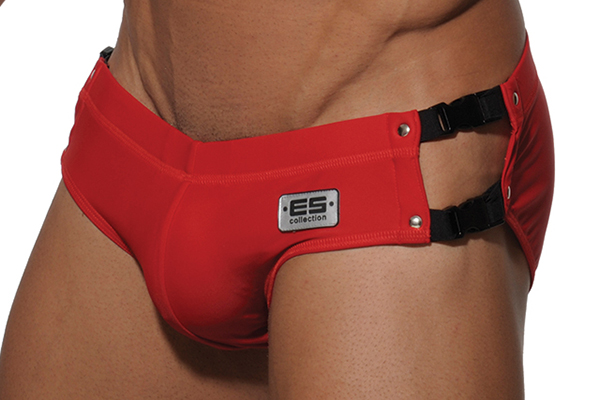 ---
TRINIDAD £59.99
With its sexy masculine box cut and long central tie, there's no mistaking the Trinidad, trunks that will stand out from the rest. Available in black, navy or white.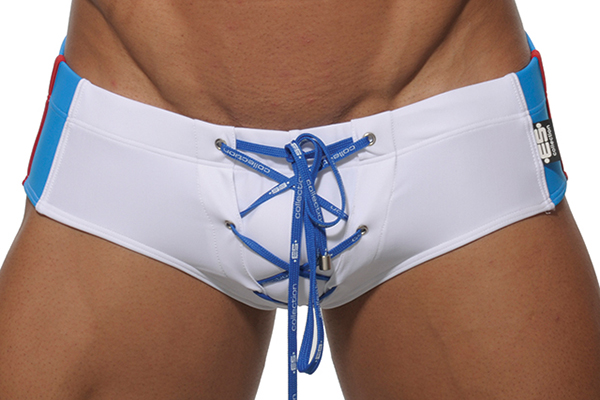 ---
SKYROS £64.99
These sporty trunks incorporate a fun ES Collection Sunny Tattoo, a patented detail which consists of a semi-transparent netting shape, in this case a barcode, that allows the sun's UV rays through, leaving a barcode tattoo tanned on your skin… How cool is that! Available in black, blue surf, navy/orange or red.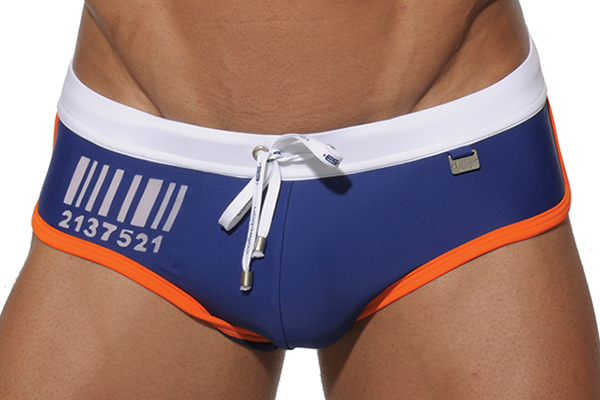 ---
WIN!
A PAIR OF JAVA SWIM BRIEFS
Yes, you could win yourself a pair of these sexy Java swim briefs. To be in with a chance simply send us an email with your name and contact details, your preferred colour and size (S,M,L) to [email protected] with QXShop May Competition in the subject field, or post your entry to QXMEN, QXShop May Competition, 23 Denmark Street, Soho, London WC2H 8NH. The competition closes on Friday May 31st at 5pm when the winner will be drawn at random… Sorry guys, but the competition's open to UK residents only.
• These trunks and more sexy designs from the ES Collection are available online from QXShop.co.uk, the UK-based online store that stocks a huge range of aromas, lubes, sex toys, DVDs, magazines, fashion, underwear and gifts. QXShop process all orders received before 12 noon the same day and once dispatched, you should receive your order, sent by Registered Mail, within 24hrs!