The guys at QXShop are constantly on the look out for the latest "I want one of those" items to hit the adult toys market. They then upload them straight onto the site so you can be the first to get one and be the envy of your mates… 
THE HAND SOLO MASTURBATOR WILL SEND YOUR ORGASM INTO HYPERSPACE!
The Hand Solo is a unique, open sleeve masturbator from Rocks-Off, which incorporates the award winning RO-80mm bullet to provide long lasting and intense fun.
It's made from Rocks Off's own body safe platinum silicone, it's 100% water-proof and easy to clean.
Batteries are included, so just lube up, slide your John Thomas up and down the Hand Solo's inner sleeve, and let its contours and the bullet's vibrations give you the wank of your life.
Available in Black, Light and Dark Blue, the Hand Solo costs only £24.99
LUBE THAT LOOKS AND FEELS JUST LIKE CUM!
And what's it called? Spunk Lube of course…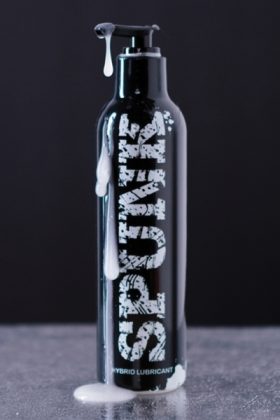 Spunk Lube is water based, white and creamy, and feels unlike any other lube on the market.
You get the best of both worlds too as Spunk Lube is long lasting like silicone, but cleans up easily like water.
And it doesn't get sticky, or taste and smell like chemicals either. Spunk Lube is condom friendly, safe to use with all sex toys, and it won't stain your sheets or ruin your leather or rubber gear.
So it really is the perfect all around lube for any occasion.
But don't just take our word for it. Go online and you'll see that Spunk Lube is getting amazing reviews!
Not only do customers love it, but we've heard that it's become a favourite with some of the industry's top porn stars too!
Spunk Lube 8oz bottle costs £12.99
• The Hand Solo and Spunk Lube are available from QXShop, the online store that offers a huge range of aromas, lubes, sex toys, DVDs, magazines, fashion, underwear and gifts, and where you'll always find loads of special offers, all at great low prices.… Based in the UK, all QXShop's parcels are dispatched super-fast and are sent in discreet packaging too!
So what are you waiting for? Go to www.QXShop.co.uk and order your Hand Solo and a bottle of Spunk Lube now…
And may the force be with you.
WIN!
A HAND SOLO AND A BOTTLE OF SPUNK!
A generous load of Spunk Lube used with the Hand Solo are the perfect combination.
To be in with a chance  of winning them, go to www.QXShop.co.uk, and tell us another Rocks Off product that you can buy on the site.
Send your answer in an email to [email protected] placing QXShop April Competition in the subject field, together with your name and contact details.
Alternatively, you can post your entry to QXMEN, QXShop April Competition, 23 Denmark Street, London WC2H 8NH.
The closing date is Monday April 30th at 5pm when the winner will be drawn at random… Sorry guys, but the competition's open to UK residents only… Good luck!