QXMEN: Hi Marko. How are you today? Or should we say, "Salut Marko. Comment êtes-vous aujourd'hui?"
Marko: Bonjour. Ça va bien. I am doing very well. Merci.
Can you tell us how old you are and where you're from?
I am a 20 y.o Pisces, and I grew up on a farm in an agricultural town just 45 minutes outside of Montreal.
And where do you live now?
Now, I live in Montreal, downtown, next to the Gay Village.
What did you do before you started working in the porn industry?
I was working as a male dancer at Campus, a local gay strip club in Montreal and was also working at Priape as a Customer Sales Representative. Now I still work at Campus and Priape from time to time.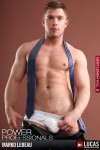 And how did you get into the business?
Well, my best friend pushed me into it! (LOL) Just kidding. I was always curious about it, and being the sex fiend that I am, he encouraged me to go to auditions that were being held last summer at another Montreal strip club. I passed the auditions… and the rest, as they say, is history. (grin)
What was your first movie?
My first scene was with Next Door Studios, with a girl, and my first actual movie was Colt Studios' Hard Wood, a solo and a side-by-side jack off with a friend of mine.
Were you nervous doing your first scene?
Obviously! But I enjoyed it a lot and I loosened up (grin) pretty quickly after that.
Are you top, bottom or versatile?
Well, I started out just topping (I was discovering my bisexuality!). I didn't think I could bottom. But so many people felt that I would be a good bottom. I worked myself up to doing it and I finally broke into it last February. I enjoy bottoming just as much as topping, so I am now very versatile.
"I'VE BEEN TOLD THAT I HAVE A 'CUB BUTT'. BUT, I PREFER GUYS WHO ARE LESS HAIRY THAN MYSELF, OR NOT HAIRY AT ALL. ONE THING THAT IS A TRIGGER IS A SMOOTH HAIRLESS ASS!"
Who's the hottest TOP in the industry?
Well, I'll tell you who is my favourite… Tony Buff!! I met him at Priape in Montreal in the summer of 2009. It was the first time I met a porn star. He was a great guy and he tied me up to the ground as a demo for the crowd on the street in front of the store. That got everybody howling!! It was a crazy but fun thing that got me interested in doing porn. Thanks Tony for opening my mind, if not my butt!!
And the hottest BOTTOM?
As for the bottom I would most love to fuck it has to be Marcus Mojo. I have done a few promos with him in the past few months. He is a great guy, fun loving and has a hot ass!
Are you single or do you have a boyfriend?
Right now I am single, but that can change quickly!
Until recently we'd not come across relative newbie MarkO LeBeau. However, this sexy French speaking Canadian is now riding high on our radar since he's starring in two releases that we've reviewed this month, Falcon Studio's Office Affairs and Lucas Entertainments Power Professionals.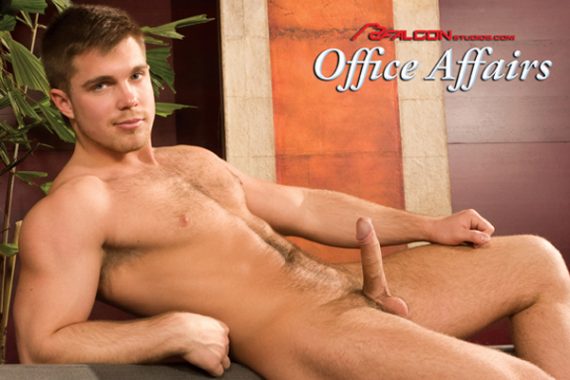 So what really turns Marko Lebeau on?
An orgy of nice asses and big dicks!
Do you prefer hairy or smooth guys?
As you know, I like to keep my body hair. I've been told recently that I have a "Cub Butt". But, I do prefer guys who are less hairy than myself, or not hairy at all. One thing that is a trigger, is a smooth hairless ass!
What's your favourite position?
Fucking doggy style!
If you had the chance to direct a porn scene that you were starring in, which other performers would you cast and what would happen?
Well, I would like Marcus Mojo, Samuel O'Toole and Gabriel Lenfant to be there! I would also include François Sagat and, of course, Tony Buff! Even though I'm not into the kinkier stuff that Tony gets into, this would be a good mix of hot guys delivering a good mix of stuff. It would be set as a horny hiking scene where everyone can give it and take it in the rugged Canadian Wilderness. I think this scene could appeal to a broad range of tastes!
You've been a busy guy lately, starring in two hot new DVD releases that we've reviewed in this issue, Falcon's Office Affairs and Lucas Entertainment's Power Professionals… So, what can we look forward to next?
These were great experiences. Folks were great to work with. As for my upcoming work, I have an orgy scene with Next Door coming up and a few other hot scenes where I have been working more as a bottom than a top. I am now working with Next Door Studios and am enjoying my new career greatly. I hope to continue to explore my sexual interests in a variety of new and imaginative ways. So, stay tuned.
What are you doing right now?
Doing this interview. (LOL) Seriously, apart from films, I started doing wholesale clothing work recently and I continue to work at Campus and Priape from time to time. I am also starting to plan my holidays with my best friend for the end of August. Not sure yet what we will do.
Do you get recognised in the street?
It's starting to happen. But that may also be because of my previous work. My fan-base on twitter though is growing fairly quickly.
If the world were to end tomorrow what would you rush out and do?
Get out there, no regrets and die cumming!
Do you have any advice for guys looking to get into the industry?
First, you've gotta like sex. Then, you should have a goal and be true to yourself. Don't let other's judgment impair your actions nor deter you from your goal! Finally, be choosy; find great and respectful people to work with.
Finally Marko, describe yourself in three words.
Sincere, Friendly and a Sex Pig!! Oooops, that's 4! (grin)