Presented to you by those two gorgeous BelAmi models Kris Evans and Dolph Lambert…
Now, we've been about, and we've fucked and been fucked in various positions with countless guys over the years. But if we're honest, we've got two favourite positions, both for reasons of comfort and low impact on the muscles and joints… Well, we're not getting any younger!
The first is on our back with the guy holding our legs over our head. This way we can peer over his shoulder and watch Coronation Street when things get a bit boring.
And the second is good old doggy-style. It's the perfect position for doing all sorts of things, like checking your emails, doing a crossword or just flicking through a copy of Heat Magazine.
We certainly had no idea that there could be 69 ways to enjoy sex! And what better way to find out than to be guided through each of them by BelAmi models Kris Evans and Dolph Lambert.
As well showing how the position should look, the book also has brief texts giving competent information on how to perform each position and everything else you should consider.
Add some fresh inspiration to your sex life and order 69 Positions Of Joyful Gay Sex from www.QXShop.co.uk for just £19.99 (RRP £24.99)
• 69 Positions Of Joyful Gay Sex is published by Bruno Gmünder (www.brunogmuender.com)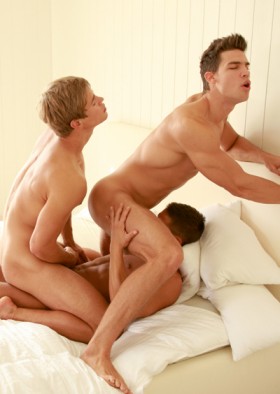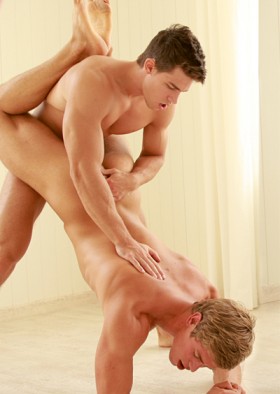 WIN! 69 POSITIONS OF JOYFUL GAY SEX
We've got a copy of 69 Positions Of Joyful Gay Sex up for grabs. To be in with a chance of winning it, just go online to www.QXShop.co.uk and tell us how many pages the book has.
Send your answer by email to [email protected] placing 69 Positions Competition in the subject field, along with your name and contact details. Or post your answer to QXMEN, 69 Positions Competition, 23 Denmark Street, London WC2H 8NH.
The closing date is Tuesday May 31st at 5pm when the winner will be drawn at random… Sorry guys, but the competition's open to UK residents only.