It should be a weekend break away from the hustle and bustle of city life, but when Lucas Entertainment send nine of their hottest young bucks to cabin retreat, rather than rest, the guys fuck like rabbits… And why not!
As soon as they arrive, Tate Ryder wraps his laughing gear around power-top Vito Gallo's massive cock and then he's bent over presenting his puckered hole to Vito, who obligingly lathers up the welcoming sphincter with his spit. Vito treats Tate like the needy bottom he is, bending him over and, although the size and girth of his tool is considerable, Tate takes it like a man.
While the rest of the guys go out exploring the Canadian wilderness, Brandon Jones and Jordano Santoro decide to stay behind and play pool. But once they realise that they have the entire place to themselves, they put down the pool cues and flip fuck, switching positions to enjoy each other's cocks and arses.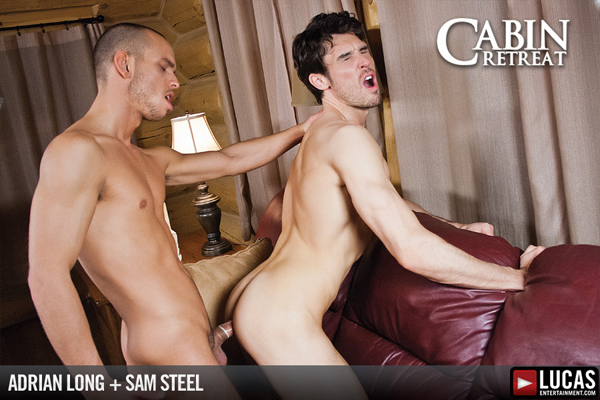 Adrian Long and Sam Steel decide to take each other on with a friendly video game competition. They make a bet that whoever looses the final round has to suck the winner's dick. So when Sam is victorious, Adrian knows what he has to do and gives Sam a blowjob like a true pro. But the action doesn't end there as Adrian decides to slide his cock into Sam's hole and fucks him until they both blow their loads!
Johnny Venture is a show-off, and who can blame him with a cock like his, who likes to jerk off in the shower in full view of his buddies. Ben Driver sneaks into the bathroom to take a piss and is soon sucking on Johnny's fat tool. But it's Johnny's cute butt that gets a deep fucking from Ben's near 10-inch cock, and he takes it like a pro, loving every second.
Hayden Colby has been admiring Jordano Santoro the entire weekend, and on their last morning he finally works up the courage to approach the Latin hunk. It's clear that Jordano has also lusted over Hayden just as much and presents his arse to him, and in the final scene, Hayden takes what he's been craving, Jordano's hot arse.
• Available from www.LucasEntertainment.com