Some of us fantasise about having wild sex with hot guys with huge, pendulous cocks and heavy cum-filled balls that slap against our arse cheeks as they pound our hungry holes.
While others dream about fucking guys with juicy pert butts that just long to be filled with our heavy loads! Fortunately for Mike James, Kris Wallace, Yuri Adamov and the rest of the horny cast of Dreams Can Cum True, their fantasies have been turned into reality thanks to Director John Smith and those guys at Staxus, Europe's largest XXX-rated hardcore gay studio.
So yes guys, dreams really can cum true! Well, if you're a gorgeous twenty-something who just happens to be a porn star…
In the opening scene we find Chase Anderson alone in a bathtub. The delectable Kris Wallace soon joins the dirty blond, and to many a red-blooded male (us included) the sight of these two fresh-faced, horny young buck is a dream-cum-true!
Young Chase, in particular, is every inch the representation of sweet innocence as he frolics in the water, and we challenge anyone not to be aroused long before Wallace appears on the scene.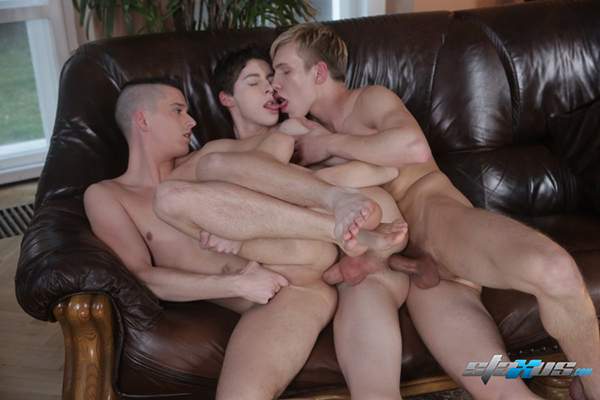 But the arrival of one of our favourite Polish twinks sets the temperature soaring even higher, and before long the two lads are taking turns sucking each other's dicks! Following some mouth-watering close-up shots of them rimming, the action turns decidedly hardcore, with Kris parting his gorgeous pert buns so that his bath-time buddy can slide his thick, meaty cock deep inside.
The lads give a stellar performance that culminates in Kris quite literally getting the spunk banged out of him and he sprays his wad all over the bathroom floor! In return, Chase jerks out a creamy treat for Wallace, who slurps at the end of his mate's cock while it squirts out a stream of boy juice…
This is what dreams are made of! Four more scenes, each one proving that dreams really can come true, follow, including an outstanding and quite literally ball-draining three-way starring Chase Hunt, Marcel Lavrov and Sven Laarson.
• Available on DVD from www.homoactive.com and as VOD stream and a download at www.homoactive.tv.