It's the day before the grand opening of the DreamBoy Hotel and Manager JP Dubois and bellboy Skylar Blu are busy checking in some very important guests.  
Everyone's been invited to the grand opening party, including hung handyman Luke Desmond, who helped fit out the hotel. To show his appreciation for all Luke's hard work, JP has arranged a little thank you present for him… young delivery boy Aaron Samuels.
As Luke undresses in his room, in walks JP and Aaron who get straight to work on Luke's enormous cock. All we'll say is that what follows is an awesome three-way that's full of surprises!
Twinky cousins Marcus Jay and Jonny Parker check in to the DreamBoy Hotel in scene two, and when a mix up means that they have to share a double bed there's only one outcome and the two 'kissing cousins' become 'fucking cousins'.
It's the middle of the night and, although he's still on duty, Manager JP needs a little stress relief. Making sure no one is around, he turns off his Sales Projections spreadsheet, flicks on some hardcore porn and knocks one out!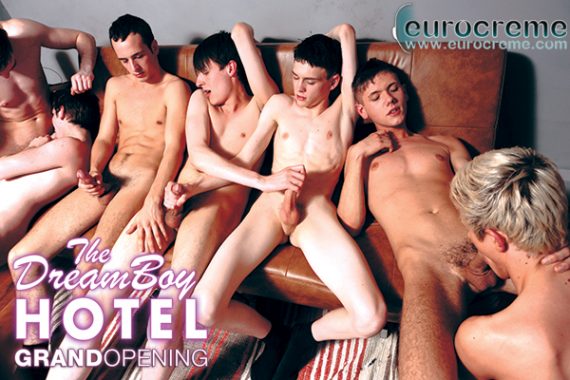 It's not been a good day for hotel inspector Lloyd Adams who arrives late at night after a rough ride and discovers bellboy Skylar snoozing at Reception. Things get worse though when he finds out that a mix up means he has no room booked and there's none left!
As it's so late, Skylar offers him the couch in Reception and Lloyd strips off while Skylar heads off to get him a drink. As Lloyd makes a start on his notes for the hotel's inspection, young Skylar offers to massage Lloyd's ankle, which he'd hurt earlier that day. Thinking he can score some extra points for the hotel's inspection, Skylar works his way up Lloyd's leg towards his meaty cock and slips it in his mouth.
It's the day of the grand opening and as the champagne starts flowing and the celebrations begin, we're treated to the biggest orgy scene in DreamBoy history! Featuring a total of seven energetic young twinks, get ready for a tangle of legs, dripping cocks and tight arses, spit roastings and daisy chain fucks! And this is only the first day of business for the DreamBoy Hotel…
• Available on DVD from Prowler, Clonezone, Nice'n'Naughty or download in HD from EurocremeStore.com