Shot on location in London and New York, Passion stars 14 international sex gods and features two of the hottest three-ways we've seen in a while!
Watch as these stunning men explore passionate play with armpits, foot licking, train fucking, deep-throating, cum eating, flipping, and double-penetration

We don't have to wait long for the movie's first hot three-way and it's Jonathan Agassi, Harry Louis and Rio Silver who provide the awesome action. Jonathan starts off by fucking Rio doggy-style and then horse hung Harry jumps on top of Jonathan to fuck him at the same time.
Giving and taking at the same time, Jonathan's proves to be the perfect filling in the fuck train sandwich.
Hung Latino Rafael Carreras and Junior Stellano are up next and Junior wastes no time in stuffing Rafael's monster-sized cock into his mouth. Once hard as a rock, Rafael rams his humongous cock deep inside Junior's muscled butt and fucks him before the guys flip and Rafael bounces himself on and off Junior's stiff wood.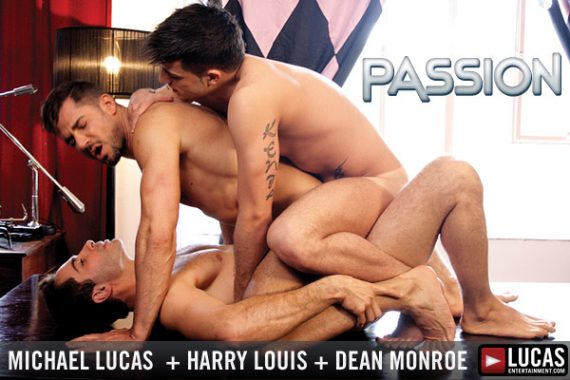 Scene three and Rafael Alencar and Joseph Mercier check in to a London hotel and immediately Joseph devours Rafael's huge schlong and gets a face fuck he won't forget in a hurry. Soon Rafael's attention turns to Joseph's milky white butt, probing his hole with his tongue and spanking and playing with his cheeks.
Then, like a true pro, Joseph takes a hard pounding from Rafael's monster cock before pulling out and shooting a thick load all over the boy's face.
The second ball-busting three-way concludes the movie and stars Michael Lucas, Harry Louis and Dean Monroe. It's Harry's gorgeous tan-lined arse that's getting the attention this time from a sexed up Michael Lucas and Harry feasts on Michael's delicious cock in return, resulting in a tabletop 69.
Dean Monroe enters the room and Harry and Michael give his hungry hole some action before Michael and Dean both take Harry's huge cock down their throats. Michael then pounces on Dean, fucking his arse and Harry joins him squeezing his thick schlong in too, creating a steamy double penetration scene that'll leave you breathless.
Available from www.lucasentertainment.com
To watch other Lucas Entertain Films on QXMEN.TV now, CLICK HERE!