Rogan Richards, Issac Jones and Antonio Garcia are three hot guys who are looking for a new housemate. They're not that bothered whether the applicant's employed or not, or if he has good references.
What they're looking for is a sexy young twink who can be their sex slave. He's got to be a cute lad with a pretty face, a fit body and a tight arse that can take a big dick, as all three guys are hung! In Mike Esser's When Men Fuck Boys, we see what happens when Rogan, Issac and Antonio take turns to road test the applicants, Luke Desmond, Lucas Davidson and Darius Ferdynand. All three are eager to prove that they would make the best new housemate – but which one will get top marks?
Antonio Garcia is interviewing Lucas Davidson, the first applicant, and the lad is surprised that the rent's so cheap. Not one to beat around the bush, Antonio puts him straight. "Do you have a girlfriend?" he asks. "No". "Do you have a boyfriend?" "No." "Do you like to get fucked?" "Err, I've never tried," to which Antonio replies, "Well if you're gonna live here, that's gonna happen a lot." Lucas says nothing, but smiles and for the next part of his interview, Antonio asks him to strip.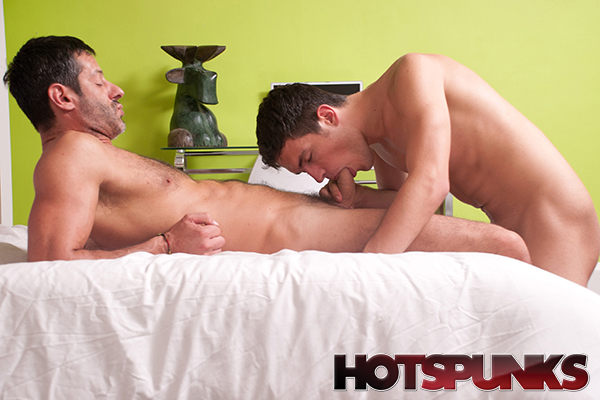 Liking what he sees, he pulls out his thick cock and asks Lucas if he thinks he can handle it. "Oh yeah," the lad says and for the next twenty minutes Antonio puts Lucas through his paces, getting the lad to deep throat his cock and vigorously fucking his peachy arse in multiple positions until, exhausted and sweating, he shoots a thick stream of spunk over Lucas's hairless chest, closely followed by the lad's load.
Darius Ferdynand is up on the roof terrace with Issac Jones and he's just been told why the room's so cheap. "Strip," demands Issac in that sexy French accent of his, and Darius does as he's told. So we get to see Issac 'interview' Darius and Antonio 'interview' Luke Desmond, but it's contestant number one, lucky Lucas Davidson, who gets the room… But not before Rogan Richards puts him through his paces and road tests his arse!
• Available from Prowler, Expectations, White Tiger and all good DVD stockists.