No, you can't have Jessy Ares! We're talking about the latest sex toys from the TitanMen Tools range, which are now available to buy online at QXShop…
FOR YOUR COCK…
The TitanMen Man Tube is an 8.5-inch masturbator with enough length for two hands! This bad boy has internal beads and it'll give you an intensely mind-blowing wank! £17.99
The TitanMen Fuck Tunnel is a 12-inch masturbator made from an amazing life-like material that gives you two unique sensations! With thick internal ribbing at one end and soft massage beads at the other, you can either keep it all to yourself or share it with a buddy! £19.99
AND FOR YOUR ARSE….
The TitanMen Tool #4 is a graduated triple-bubble butt plug that's guaranteed to hit the spot every time! This bad boy comes in two sizes, the Trainer which is 5 inches long with a diameter of 2 inches and, not for the faint hearted, the Master, which is an impressive 6.5 inches long and has a diameter of 2.6 inches!
The TitanMen Tool #5 is an all-together different butt plug with a rounded tip and a prostate-pleasing curve at the end! It also comes in the Trainer and the Master sizes, the smaller measuring in at 5.2 inches long with a diameter of 2 inches, and the bigger version, the Master, coming in at an eye-watering 6.6 inches and 2.4 inches around!
The Trainers cost £17.99 while the Masters are £21.99.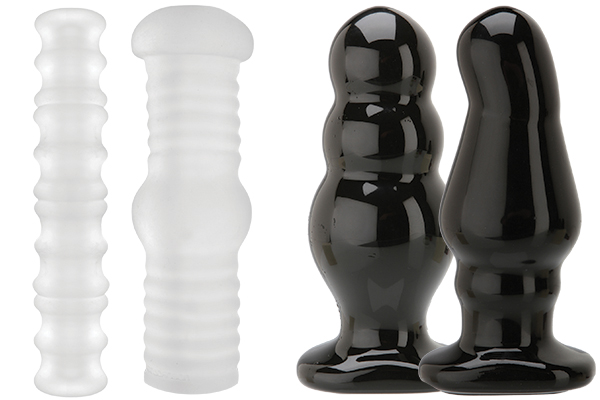 • These TitanMen sex toys – and loads more – are available from QXShop.co.uk, the UK-based online store that stocks a huge range of aromas, lubes, sex toys, DVDs, magazines, fashion, underwear and gifts. They process all orders received before midday the same day, and once dispatched, you should receive your order, sent by Registered Mail, within 24hrs.
WIN!
A TITANMEN TOOL #5!
To be in with a chance of winning one of these bad boys, just send an email with your name and address to editorial@qxmen.com with QXShop April Competition in the subject field, or post your entry to QXMEN, QXShop April Competition, 23 Denmark Street, Soho, London WC2H 8NH. Please also tell us whether you want the Trainer or the Master. The competition closing date is Tuesday April 30th at 5pm, when the winner will be drawn at random… Sorry guys, but the competition's open to UK residents only.
.