Light and fluffy vanilla-flavoured sex is all well and good. But, if we're being honest, we all love a guy who's a right dirty bastard in the sack. 
When we say 'dirty', what we mean is that he's the type of guy that'll pin you down and, while grinding his rock hard cock against your hole, he'll whisper in your ear exactly what he's going to do to you that night in graphic detail… What we don't want is a guy who we only describe as "dirty" because when we pull our cock out of his arse it's smeared in poop and we find a sweet corn kernel lodged under our foreskin!
If you're going out on the pull or you're at home cruising the net – and there's the slightest possibility that you might get fucked at some point – there's really no excuse not to ensure that your arse is clean. Especially when you see the great range of bulb douches on sale at Prowler…
One of the top sellers is the red and black Vulcanite Anal Douche, which offers two methods of cleaning. Use the thin probe to direct a steady stream of water up deep into your arse, or screw on the attachment and its dome shaped tip sprays a circular fountain of water that massages as it gently cleanses. The Vulcanite Anal Douche is one of Prowler Soho's most popular douches and it's a snip at just £16.75.
Then there's the StreemMaster Mini Douche. This bad boy also comes with a small and a large nozzle, both with rounded easy-entry tips, and it's latex and phthalate free, meaning no nasty irritation for guys with sensitive bums! One of its great features, sadly lacking on many other bulb douches, is the large flat bottom that allows it to stand upright when full. The StreemMaster Mini Douche retails for £17.99.
Bringing up the rear (so to speak) is the Perfect Fit Ergo (2 in 1) Douche. Also phthalate free, you can choose from the 6 inch and 9 inch version. Both have bendable, bulbous, screw-in nozzles, which mean you can get deeper and use more water than most other douches. A cut above the rest, the Perfect Fit Ergo (2 in 1) Douche has a unique one-way air valve on the bottom of the bulb which eliminates back-flow and means you can squeeze with less force and use more water in one go. The 6 inch Ergo costs £19.99, and the 9 inch version which also comes with a nozzle adapter that screws onto your shower hose, costs £26.99.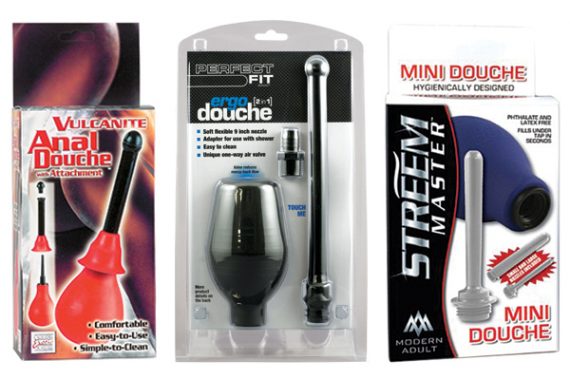 ---
WIN! STREEMMASTER MINI DOUCHE
Courtesy of the guys at Prowler, one lucky reader can win himself a Streemmaster Mini Douche by entering our competition. To be in with a chance just send an email to [email protected] Prowler September Competition in the subject field, along with your name and contact details, or post your entry to QXMEN, Prowler September Competition, 23 Denmark Street, London WC2H 8NH. The competition closes on Sunday September 30th at 5pm and the winner will be chosen at random…
Sorry guys, but the competition's open to UK residents only.
• So, don't be a dirty boy… Pop into a Prowler Store in London's Soho, Birmingham or Brighton or go online to www.prowler.co.uk. 
• Brighton, 112-113 St James's Street Brighton BN2 1TH, Tel: 01273 683 680, Mon – Sat: 11am-7pm, Sun: 12noon-6pm 
• London Soho, 5-7 Brewer Street, London W1F 0RF, Tel: 020 7734 4031, Mon – Fri: 11am-10pm, Sat: 10am-10pm, Sun: 1pm-8pm
• Birmingham, 29-30 Stephenson Street, Birmingham B2 4BH, Tel: 0121 665 6379, Mon – Wed: 10am-6pm, Thu – Fri: 10am-7pm, Sat: 10am-6pm