BLUF (the Breeches & Leather Fan Club) will be launching in Bristol on Friday, October 21st.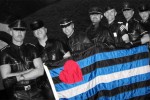 For those of you who don't know, BLUF is a club for guys who enjoy wearing breeches and leather uniforms. It was started as an Internet club in 1997, and there's now over 2,900 BLUF members worldwide!
The Bristol event will be the only BLUF event in the UK during October, so there'll be a fair few horny BLUF members heading to West Country down for a bit of boot, breeches fun! [email protected] will be meeting at one of the city's regular monthly leather & fetish nights, GEAR at Club O.
As the venue is a private members' club, membership and registration will be required. Therefore, head to www.gearbristol.co.uk for membership and further info. A strict dress code applies and the entrance fee is £10.
Club O is a spacious underground venue with several arches, private changing areas, coat check and lockers, with dedicated areas for socialising and beers, a private outdoor smoking area, XXX cinema with genuine old style 'pop-up' seats, areas for wanders and play, including equipment and private rest/play rooms.
• Club O is at 7 Lawrence Hill, Bristol BS5 0BY. Doors opens at 9pm and the meet goes on to 2am – with a possible extension to 3am!
• For more information, go to www.bluf.com or search for [email protected] on Facebook.