Cyrex proudly unveiled a remote controlled electro stimulation system called the ElectraStim Controller at June's 2011 ETO Show at the NEC in Birmingham.
This clever little box of tricks has 18 intensity levels, 7 stimulation patterns including auto escalating modes, a Boost feature, a Zap mode and a state of the art multi-directional movement sensing mode.
The system can operate at distances in excess of 50 metres and is very easy and intuitive to use. The transmitter is a really neat unit and shows exactly what is happening at the receiver/stimulator including the stimulation intensity level and one of seven selectable stimulation patterns.
The receiver emits an audible confirmation beep(s) every time it receives a command but, if your mum's in the next room, this can be disabled if silent operation is required. The Controller kit comes in a durable, custom fitted carry case with everything required including a leather belt/harness pouch for the stimulation unit.
With a retail price of around £249.00, this high quality unit is for guys already into electro play and who want to go to the next level!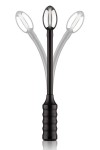 Cyrex also unveiled an exciting new electro stimulation dildo called Depth Charge. It's an egg shaped electrode with a flexible spring shaft which is manipulated with an ergonomic hand grip.
The shaft's made from non-conductive, low diameter silicon which focuses the deep internal sensations coming from the egg electrode at the end, while the springy shaft allows the probe to naturally bend where required and can be used for anal electro stimulation up to 18cm deep! The Depth Charge can also be used for highly effective prostate stimulation and compatible with all ElectraStim units.
That was the product description but we're soon to be road testing these stimulators and we'll tell you how we found them in next month's issue.