It's been a whole year since QXMEN rubbed shoulders (and other body parts) with some seriously sexy leather, rubber and fetish lovers at the launch party of the Mister B Store-in-Store at London's Expectations…
Yep, the first ever Mister B outlet in the UK has been in business for 12 months, offering guys a massive range of sexy leather clothing, t-shirts, vests and underwear from the legendary Amsterdam-based company.
Plus, of course, there's the essential items every gay man needs to keep his slave boy in check like restraints, collars, gags, whips, paddles, canes, etc, etc, etc.
To celebrate the one year anniversary, the guys at Expectations – considered to be Europe's largest gay fetish store – are planning one hell of a birthday party on Saturday April 21st from 3pm-7pm!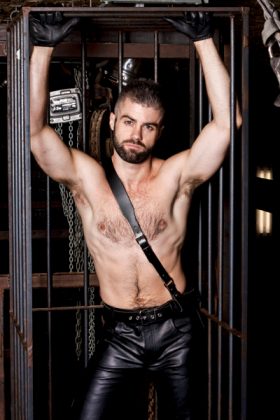 One of the day's highlights will be a sexy fashion show, featuring some of the hottest Mister B gear modelled by some seriously fit guysguys. One of them will be Simon (pictured) the sexy fucker who you've probably noticed in Expectations' recent adverts in QXMEN.
Top club DJ (and QXMEN's newest columnist) Zack Hadley will be on the decks getting you in the mood for some serious clubbing. Which will be perfect, as later that evening it's Hard On at Union. So there'll be absolutely no excuse not to turn up at the club looking sexy-as-hell in a new outfit that night.
And you'll even get a fantastic 20% off everything you purchase that day at Expectations, so it's well worth going along to join in the celebrations on the day!
And if all that wasn't enough to tempt you along, everyone attending the anniversary party has the chance to win a tailored leather garment, up to the value of £400, a £100 Mister B gift voucher and other great goodies too! Oh, and did we mention there'll be free drinks too?
Those guys at Expectations sure know how to throw a party… We'll see you there!
• Expectations, 75 Great Eastern Street, London EC2A 3RY, Phone: 020 7739 0292, www.expectations.co.uk