If we asked you where the UK's largest men-only super club is outside London, what would your answer be? Birmingham? Manchester? Leeds maybe? 
Well it turns out it's R7 in Bristol. It's the latest edition to the city's Old Market area (where Flamingos used to be) and the huge venue has two large arenas, three DJs and its own cool and secluded chill out zone.
We're told it's wall-to-wall men inside and you'll find all kinds of blokes there, from buff blokes to gruff gents and butch boys to the more fuller figured fellas and chunky hunks!Next time we're in the West Country we'll definitely be checking the club out, maybe when Come To Daddy is on.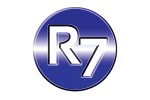 • R7 is located at 23 West Street, Old Market, Bristol BS2 and is open on Friday, Saturday and Sunday from 10pm til late.

• Check out r7club.ning.com for details.