Every year over the Christmas and New Year holidays we party hard, eat too much food and drink way too much booze, and then we spend the whole of January feeling lethargic and bloated.
Fear not though, as the gang at Prowler have a great batch of goodies to help keep you company while you stay indoors on these cold January nights and recharge your batteries.
There's a bumper batch of no less than twenty BelAmi DVD titles in store to choose from, including Skin on Skin (1-5), Dirty Secrets, More Than You Can Handle, Cocky Friends and Anytime Anywhere.
So whether your favourite is Dolph Lambert, Kris Evans, Luke Hamill, Kevin Warhol, Todd Rosset or one of the other gorgeous BelAmi babes, you're bound to find a few titles you'll want to take home.
They're cheap as chips too at only £16.50, and you can even grab three titles for just £45! Don't forget, if BelAmi films don't float your boat, Prowler's Blue Room has a massive selection of R18 DVDs from other porn studios as well, from just £10.99 or three for £30!
Speaking of BelAmi, have you ever wondered what it must be like to be fucked by Dolph Lambert or Kris Evans?
Well, sadly Prowler can't arrange that for you, but they can give you the next best thing! They've just taken delivery of the new Fleshjack Boys reality dildos, including ones molded on Dolph, Kris Cody Cummings or the ultra sexy Samuel O'Toole! These realistic dildos are great value too, at just £49.95.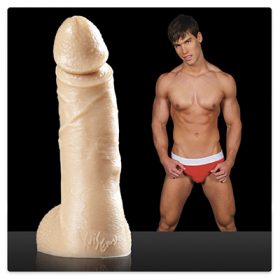 And if you'd prefer to fuck your favourite BelAmi boy, don't forget you can still lay your hands on the BelAmi Fleshjack masturbators. Choose from Dolph Lambert, Jean-Daniel Chagall, Kevin Warhol or Kris Evans. These babies are nice and tight (trust us!) and retail for £61.99 at Prowler.
• Available in Prowler stores nationwide.
• Prowler Soho, 5-7 Brewer Street, London W1F 0RF – Tel: 020 7734 4031
• Prowler Brighton, 112-113 St James Street, Brighton BN2 1TH – Tel: 01273 683 680
• Prowler Birmingham 29-30 Stephenson Street, Birmingham B2 4BH – Tel: 0121 665 6379