NEW AND UPCOMING RELEASES THAT LOOK HOT!
LICK IT CLEAN
Last month's centrefold, the delicious Cliff Jensen, heads a cast of twelve hot guys in the long awaited follow up to Chi Chi LaRue's award winning movie Below The Rim. The clue's in the name of what kind of action you can expect to see in Lick It Clean as the movie's a total arse-eating, cock-sucking feature! Yes, this is an oral-lover's delight where you'll see no cocks up arses, just probing tongues up hot butt holes and wrapped around stiff shafts… Who's says that porn is all about fucking?
• Available from Prowler, Expectations, White Tiger and all good DVD stockists.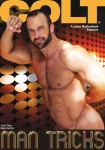 MAN TRICKS
There's no mistaking a COLT Man. He'll be handsome, rugged and he'll simply ooze masculinity. A COLT Man will know exactly what he needs, and he'll know that he'll need to get it from another COLT Man. In Man Tricks, award winning director John Rutherford brings us the hot and heavy hook ups and the passionate man-on-man encounters starring COLT hunks such as Aaron Cage (pictured), Mitch Branson, Nate Karlton and Brenden Cage.
• Get your copy at www.COLTstudiostore.com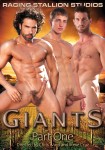 GIANTS PART 1
Two of our favourite directors, Chris Ward and Steve Cruz, have joined forces to make Giants Part 1, the first stunning instalment of a major two-part release shot on location in sunny California and starring some of the hottest gay porn stars on the planet! This epic feature looks set to be one of this year's blockbuster movies and with a cast of stunning hunks such as D.O., Logan McCree, Aybars, Rusty Stevens, Francesco D'Macho and Wilfried Knight it really can do no wrong.
• More details at www.ragingstallion.com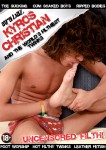 KYROS CHRISTIAN AND THE WORLD'S FILTHIEST TWINKS.
Emo super twink duo Kyros Christian and blond Dillon Samuels star with a feast of sexy young pups in Kyros Christian And The World's Filthiest Twinks. Yep, there's no muscle daddies or, in fact, anyone who looks over eighteen, just young, slim guys sucking cock and fucking peachy bums with the gusto that only youngsters have. True to form, Kyros and Dillon put on a sterling performance, and the rest of the cast prove that they can be just as filthy too… If you like twinks you'll love this DVD!
• Available to buy at www.eurocreme.com or watch high quality streaming at www.eurocreme.tv