We'd never heard of the term 'prostate massage' before we started working here. Turns out that we'd been doing it for years though!
It's the massage or stimulation of the male prostate gland (or G-spot) for sexual stimulation or medical purposes and boy, does it feel good.
SexHealth.co.uk now stock the full range of 14 Nexus products in a variety of colours, all engineered to give you maximum prostate and perineum pleasure. We never thought we'd use the words 'sleek and stylish' when it came to describing something like this, but the Nexus range truly are.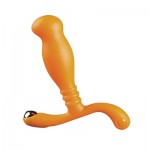 The Nexus Glide is the perfect way for beginners to experiment with the pleasures of prostate massage and you can use it on your own or with a trusted loved one. The Glide is 11.5cm long with a 3cm circumference.QXMEN road tested the Nexus Neo. Similar to the Glide, it's a little bigger at 13.5cm long and 3.8cm girth, and has a completely different angle of entry.
It's designed for the (ahem) more experienced arse player and we can tell you that its slightly larger proportions certainly go a long way. We recommend sliding it in, positioning the little handle with the stainless steel roller ball so it stimulates your perineum and slowly wank your cock with plenty of lube. Then prepare yourself for one of the most intense orgasms of your life!
→ WIN! To celebrate SexHealth.co.uk's new range of Nexus prostate massagers, the online retailer is giving away two Nexus Neos to a couple of QXMEN readers. To be in with a chance of winning one of these fantastic prizes, visit www.sexhealth.co.uk/nexusqx and answer the simple question.