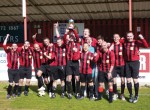 Continuing their support for the gay community in Newcastle, Number 52 Sauna is the proud sponsor of the Newcastle Panthers, The winning team of the GFSN National Cup.
Not only that but Number 52 support Body Positive by donating all of their tips to them and they're also sponsoring Newcastle Pride's t-shirts this year!
And it's not just Newcastle's gay community that Number 52 look out for as they always give their customers fantastic value for money in a bright, clean, warm, comfortable and discreet setting where everyone feels welcome.
The sauna is fully licensed for films, food and alcohol so everything is provided for their customers. So head down to Number 52 Sauna, the busiest and most recommended sauna in the North East. For more info go to www.number52sauna.co.uk.