This month marks three decades of the unique voluntary organisation SM Gays providing education and support to the gay male SM community.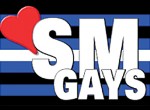 To celebrate, there'll be two special events at the organisation's longstanding London base The Hoist.
The SM Gays Celebration Party, a special one-off Saturday evening celebrating this remarkable record of service to the community in partnership with The Hoist, takes place on Saturday July 30th. Doors open at 9pm to those with advanced tickets, and at 10pm for ticket sales on the door.
A live show and a Japanese bondage demonstration are among the attractions, and the Hoist is relaxing its usually strict weekend dress code for the occasion. Advance tickets at £7 are available at Discovery Nights, Fetish Freak @ the Hoist and Master U in Kennington Lane.
Tickets on the door are £10. But before that, the 30th edition of the annual Discovery Night Birthday Party takes place on Thursday July 21st, with the usual birthday activities, including the legendary birthday cake. For more information go to www.smgays.org.