We love these hot summer months as guys are out and about in vests and shorts with maximum flesh on display. But it can be hellish for leather and rubber loving guys as it can all get a bit too hot and sweaty!
Well those guys at Expectations have a great alternative to leather and rubber with sexy Neoprene gear from Rough Trade. If you've not heard of Neoprene, it's a versatile synthetic product, originally developed as an oil-resistant substitute for natural rubber.
It's lightweight, durable and it lets your skin breath, making Neoprene perfect for a night out clubbing or a sleazy night in when sex in fetish gear is on the cards.
Expectations currently stocks three very sexy Neoprene harnesses; the Slingshot, the Holster and the Gladiator (pictured). Prices range from £59 for the Slingshot up to £149 for the Gladiator, which has a choice of rough or smooth style. All harnesses come in medium or large size.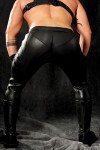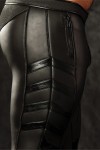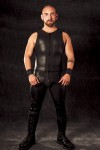 One of the most popular items is the Biker  Waistcoat, which has a zipped front giving you a great body hugging look. It's available in chest sizes of 36", 38", 40" and 42", and retails at £199.
Finally, Rough Trade Biker Jeans are perfect for guys who want the look, but prefer a lighter feel. Priced at £399, they're available in waist sizes 30", 32", 34" and 36".
• Rough Trade products, together with a huge range of leather, rubber and lots of other gear, including top stuff from Mister B, are available online at www.expectations.co.uk and in-store at Expectations, 75 Great Eastern Street, London EC2A 3RY.