MOJO ZERO GRAVITY PENIS PUMP BLACK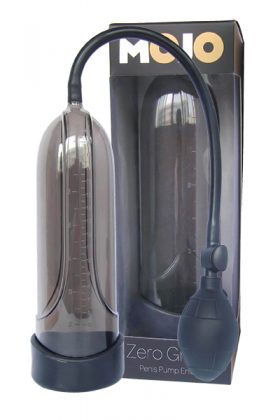 The MOJO Zero Gravity Penis Pump works by creating a vacuum around your cock, which in turn increases the blood flow into it, and it can be used for different purposes…
The obvious one is that it can help you (or someone else) get an erection. Then, of course, once your dick is hard, if you carry on pumping, your hard on will get seriously harder and noticeably bigger than usual.
But did you know that studies have shown that over time regular use of a cock pump can actually make your cock larger!
We kid you not… Much the same as when a guy works out at the gym, when you pump your cock, the gentle stretching creates what's known as micro-tears that, as they heal, enlarge your cock by length as well as girth!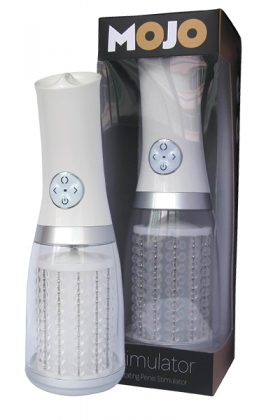 MOJO STIMULATOR
Being hailed as 'the future of male masturbation', the MOJO Stimulator has SEVEN – count them – SEVEN different rotation programs and FIVE speed settings! So, whatever you're in the mood for – a bit of fast and furious fun or a late night, slow and sensual release – this bad boy will sort you out!
Inside the MOJO Stimulator there's a smooth 100% silicone, noduled sleeve and 120 rotating beaded lengths which, when working in tandem on your cock, will give you toe-curlingly good sensations and, ultimately, one of the most intense orgasms you've ever had!
---
So, if you want a bigger cock and mind-blowing orgasms, order the MOJO Zero Gravity Penis Pump Black (£24.99) and the MOJO Stimulator (£69.99) from QXShop.co.uk, the UK-based online store that stocks a huge range of aromas, lubes, sex toys, DVDs, magazines, fashion, underwear and gifts.
QXShop process all orders received before 12 noon the same day. Orders received after 12 noon will be processed the next day. Once dispatched, you should receive your order, sent by Registered Mail, within 24hrs.
---
WIN! A MOJO ZERO GRAVITY PENIS PUMP BLACK!
To be in with a chance of winning one of these bad boys, go online to www.QXShop.co.uk and make a note of the MOJO Zero Gravity Penis Pump Black's Product Code… It's that simple! Email the code with your name and address to [email protected] placing QXShop August Competition in the subject field, or post it by snail mail to QXMEN, QXShop August Competition, 23 Denmark Street, London WC2H 8NH. The closing date is Friday August 31st at 5pm and the winner will be drawn at random… Sorry guys, but the competition's open to UK residents only.