Here's two great movies, available on DVD from Peccadillo Pictures, that QXMEN highly recommends.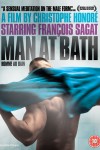 Whilst they may not be hardcore porn (yes we do actually watch other types of films) Man At Bath does star the oh-so-sexy François Sagat and House Of Boys stars the gorgeous Stephen Fry.
In Man At Bath Sagat plays a gay hustler called Emmanuel living with his lover, a filmmaker called Omar, just outside of Paris. After a quarrel between the two, Emmanuel is left broken-hearted to fend for himself as Omar makes his way to New York.
The film separately follows the two men as they go to extraordinary lengths to prove that they're not in love with one another, discovering how their heartbreak gives way to fresh outlooks.
House Of Boys is set in 1984 and tells the story of Frank, a determined teenager who runs away from high school to find an alternative lifestyle in Amsterdam.
He finds a home and a job at the House of Boys, a bar-cum-brothel run by a strict Madame. The movie's a glamorous, colourful coming-of-age story that lifts the lid on an exciting world of sex and music that will make you laugh and cry.
Both movies are available to buy on DVD from www.amazon.co.uk but if you're feeling lucky then why not enter our competition where you could win both DVDs. To be in with a chance just answer this simple question. The lovely François Sagat is famous for having a tattoo on a. his cock, b. his arse or c. his head.
Send your answer on an email to [email protected] placing Peccadillo Competition in the subject field, along with your name and contact details, or post your answer to QXMEN,Peccadillo Competition, 23 Denmark Street, London WC2H 8NH.
The closing date is Friday September 30th 2011 when the winner will be drawn at random. Sorry guys,but the competition's open to UK residents only.