Michael Lucas has enjoyed unparalleled longevity in the adult industry with seventeen years and counting…
His film studio, Lucas Entertainment, is one of the top five gay porn companies. It produces award-winning blockbusters with famously high production values including Michael Lucas' La Dolce Vita, a film that received fourteen AVN Award nominations and won all of them – a record that stands unbeaten.
He's faced his share of battles too – including with La Dolce Vita when the purported owner of Federico Fellini's La Dolce Vita filed a lawsuit against Lucas Entertainment, citing copyright violations.
It was a three-year court battle, but Michael, always the fighter, rose victorious when the court dismissed the entire lawsuit.
Born in Moscow in March 1972, Michael faced difficulties being gay and Jewish in homophobic and anti-Semitic Communist Russia.
He was rebellious and unafraid to speak his mind, and it got him into a lot of trouble then; and still does today. Michael regularly uses his porn stardom as a platform to speak out against social issues he finds unjust. Problems like child exploitation, anti-Semitism, religious oppression of gays, and more.
Many times he faces criticism from the very community he is trying to defend. While promoting his latest high production blockbuster The Last Day, Ronnie Jordan sat down with porn's ultimate maverick to get know him just a little bit more…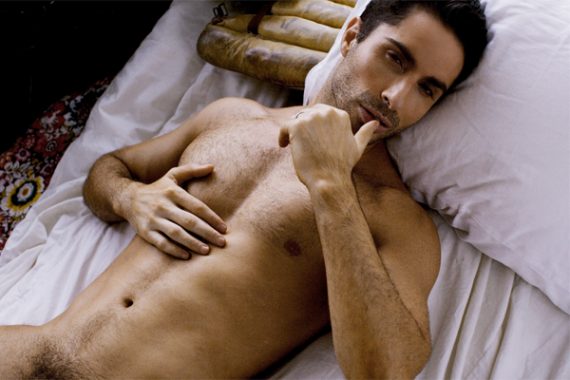 What's the best thing about waking up Michael Lucas every morning?
Thinking about how fortunate I am to wake up in the capital of the world (New York), be blessed with great family and friends, and know that I will be having another busy day.
Why did you get into porn?
I decided to enter adult entertainment right after I moved to Europe in the mid-nineties. I was a tourist on a tourist visa and I couldn't really work anywhere legally, particularly in a strict country like Germany where you can't do anything without papers. The adult industry is different. All I had to do was show my Russian passport to prove that I was over 18 and I could get paid.
How do you feel about the notoriety that comes with heading a gay adult film company?
I wish that everyone could be as successful in his or her field as I am successful in mine.
"Some want it rougher and sweatier with spitting and water sports. Even if they don't practice it in their own personal life, some have fantasies about it."
Do you ever wish you had chosen anonymity?
Generally no. Except when I am in a restaurant, having just put a piece of chicken in my mouth and someone comes to tell me that he likes my work. It makes it difficult to respond and I don't want to come across as rude.
Lucas Entertainment has won its share of awards. Which are you most proud of?
I am proud of them all because they represent so many aspects of our production. I am proud when we get awards for best movie of the year because there are so many people involved and the award acknowledges everyone.
The individual awards because they honor those people individually: videographers, graphic designers, web developers, screenwriters and actors. I'm so proud that I've put together such a great team to work for me and each member of that team is so important.
It's easy to enjoy the accolades. How do you take the personal attacks and criticism?
Personal attacks and criticism are two different things. I take constructive criticism well and it is often very useful. Personal attacks I choose to wear as a badge of honour.
What do your detractors not understand?
That I am exercising my first amendment rights and no one will be able to shut me up, whether they like my point of view or not.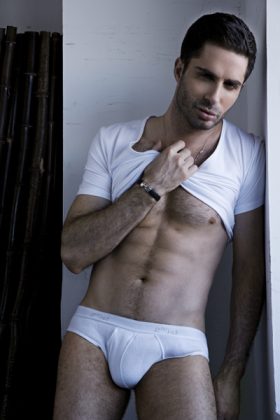 Why are your films important?
They are important because my models use condoms. I promote safe sex because I believe that young people are first introduced to sex through adult videos. These movies are so accessible and young people are very internet-savvy. I feel it is my great responsibility to show that men can have great sex and enjoy each other while using condoms. And don't forget that there is a severe lack of sexual education, so young men are more likely to see an adult movie than they are to search out safe sex information.
Is there a place for bareback in films?
Lots of porn films and actors do not use condoms. People who produce these movies are greedy and irresponsible. I care about my community.
Why does Lucas Entertainment release large production films like The Last Day?
We invest in large productions because they sell. It's all about supply and demand and there is a great demand for movies with a storyline. It is much hotter to watch sex when you know why people are having sex.
There is a lot of talk in the films. Will tomorrow's porn stars need to take acting classes?
No. There are a lot of guys who just naturally have screen presence and so we select them for our main features.
If you could wake up as someone (or something) else for a day, who would you choose?
I would choose to wake up as Adolf Hitler because I would be able to commit suicide immediately and spare the world the disaster of the Second World War.
After twenty years in the biz, what are your feelings about sex?
I think sex in film is moving from vanilla to raunchy. Not everyone wants to just see kissing, sucking and fucking, like they did before. Some want it rougher and sweatier with spitting and water sports. Even if they don't practice it in their own personal life, some have fantasies about it.
Are you satisfied with the cards life has dealt you?
I am very grateful and I consider myself very fortunate. I could be a lawyer somewhere in Russia dreaming about escape but never getting out. Instead, I lead a very busy and exciting life.
If you could say fuck you to anyone, who would it be?
There are so many people I feel like telling it to that lately I don't even bother. Why should I waste my energy?
Finish this sentence: Love me or hate me, I deserve respect because…
I survived living under communism, being both Jewish and gay in a homophobic and anti-Semitic society.  I immigrated to Europe and then to the US, turned my life 180 degrees around from a lawyer to a porn star to a studio owner.
I supported my family for many years when my father lost his job and then moved my parents, grandparents and brother to New York and gave them a wonderful life. I employ many people and provide them with good salaries, benefits and medical care. I am writing political articles for the mainstream publications like Advocate and Huffington Post, I speak in Universities. In short, I have lived the American dream.
• The Last Day and La Dolce Vita are available to buy at www.LucasEntertainment.com
• Pics courtesy of Lucas Entertainment