London has one of the largest fetish scenes in the world, and once a year Recon celebrates the sexual freedom the capital's fetish community enjoys with Fetish Week London.
---
So, from 7th to 13th July, put your best kit on – or off – and get ready for some of the raunchiest parties the capital has ever seen! Held at London's grittiest venues, there'll be events to suit all fetishes, and guys from London and across the globe will be in town and geared up for the biggest fetish event of 2014.
If you're unsure which events to go to then check out www.fetishweek.com. There you'll find details about all the events and purchase your tickets. Then click on Recon events page to see who is going to which events and to add yourself as attending.
For all the latest news and information about Fetish Week London and to enter some great competitions check out #FWL2014.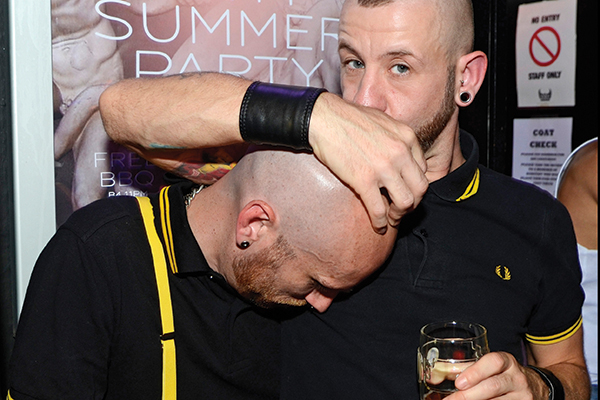 There's so much going on over Fetish Week London, we'd need the whole magazine to detail all of the events. So here's a brief rundown of the week's Official Events.
Tuesday 8 July
• Get involved and learn the ropes (whips, chains, hoods and gags) at the Bondage Master Class party at Eagle London. In a relaxed atmosphere, experts will give demos to help you safely explore bondage, SM and other kinks. There's no strict dress code, gear up or go as you like.
Wednesday 9 July
• There's a special screening at Riverside Studios of Age of Consent, a film about the Hoist, one of London's most famous fetish bars. We dare you to go geared up and mingle with the film's cast members.
Thursday 10 July
• The Hoist plays host to the official Sports Cruise party  for guys into all kinds of sports gear, be it football strip, rugby kit, Speedos, jocks, Lycra, trainers, superhero! Dress code: Need we say, sporty…
Friday 11 July
• Fancy a pint and making some new fetish mates? Go along to the Soho Social at Compton's bar in Soho. There's no strict dress code, gear up or go as you like.
• For a more civilised fetish affair why not go along to the Fetish Week Dinner, which includes a champagne cocktail and three-course meal. It's at the Amalfi restaurant in the heart of Soho, and although this is Fetish Week, when it comes to dress code please spare a thought for the other diners. Therefore, no bare chests, chaps or extreme clothing please gents.
• Some Spanish kink comes to London in the form of Into The Tank, Spain's hottest fetish and dance cruise party with organiser and DJ, M Carranco. Dress code is open to all gear.
Saturday 12 July
• Berlin's infamous BLF Leder und Fetish, hosts the popular Skinhead party at Eagle London oon Saturday afternoon. There'll be a Ska DJ spinning traditional tunes and a BBQ on the outdoor terrace. Dress code. Need you ask, Skinhead.
• The main event of Fetish Week is the Full Fetish party returning to The Coronet Theatre. This spectacular event will see the UK's biggest cruising area, wet area, new equipment and an exclusive VIP party experience! Dress code: All fetishes.
Sunday 13 July
• The horniest rubber guys and sleaziest latex pervs will be at the Rubber Gear Party at Union. Need we say there'll be a strict dress code of rubber guys!
• The official Recon closing party of Fetish Week London will be Deconstruction at the Hoist. Expect the hottest guys at the sexiest bar in town with two arches and London's biggest wet area.
• Don't forget, to find your perfect outfit, whatever your fetish – be it leather, rubber, sports kit, skinhead gear or military – head to www.recon.com/store.