So far there's been Snatched, Trained, Played and Drilled… Now it's time for my fifth film with Bulldog XXX, and I want this one to be bigger, better and, of course, more controversial!
I've wanted to do a glory hole film for a long time. It's something that I have a personal connection with, because when I was young I spent a lot of time in toilets waiting on the other side of a hole hoping that some big cock would come through for me to chow down on. I think I spent most of my years up to the age of twenty enjoying the fruits of a glory hole.
Having looked into how glory holes have been used in porn before, I found it was always the same old setting. So how could I take the glory hole out of the toilet? Out of the dark sex club and into the fresh modern kink that Bulldog is now all about? This thought paved the way for my latest film Penance.
There's been a lot of press recently about priests and boys, and what better way to homage the glory hole and live out a fantasy of mine than putting a glory hole in a confessional booth!
Having written the script, after trawling through endless Christian websites to find the right quotations for the priest and the boys to use as dialogue, I just needed to find the cast. I know it's porn but I would like to have some kind of authenticity. I wanted to use religious quotes that could have a double meaning, and they weren't hard to find if I'm honest! Most of what they say seems to be in a grooming style anyway!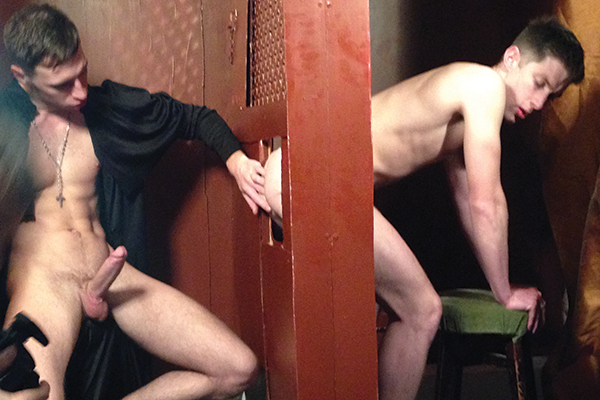 Our set designer, known as Munki Chops, got busy with the design and, with help from our photographer, we worked at getting the lighting right. There is an intimate feel and it's a closely shot movie, so you feel like you're there in the booth with the priest and the boy. As we were setting up the lights we put a cross on the outside of the booth and 'BANG' all the lights in the studio blew! I look at my colleague who's looking a bit terrified and says to me "God's not happy"… I'm just hoping that this is not the beginning of some kind of curse!
The cast is booked and we have some amazing, brand new talent for you that you won't have seen in the Bulldog films before. Of course, there are some favourites of mine in the cast, such as Kayden Gray, who plays one of the priests, and the cutie Mark Coxx who plays one of my boys. But I'm introducing to Bulldog fans Theo Reid, Justin Blake, Alex Silvers and James Dixon who's previously starred in some of the Eurocreme Group's other studios.
Our priest for the day is Theo Reid and his confessing boy is Mark Coxx… what a treat! Everyone arrives on set at noon, the paperwork is filled out and then we get down the good stuff with the glamour shots of the models taken in the outfits they'll be wearing in the film and then the more enjoyable naked shots. I run through the script with the guys a few times before the camera start rolling. Trying to get some of the script into their heads isn't easy but thankfully we can film this in memorable bite size chunks.
The cast is full of big cocks! Kayden Gray and James Dixon are endowed with some of the biggest we have had on set! If you're a fan of boys with eight plus inches then you're going to love this film… It's great when you spend your working week surrounded by big bouncing cocks at head level whilst on your knees! Kayden joins us as the priest in the next scene – he's also our model who will be on the final DVD cover.
If you were ever going to fantasize about a hot priest, Kayden ticks the boxes and has an amazing, big nine inch cock.  We get him dressed up as a priest and he's ready for his cover close-up! Theo does an amazing two scenes as a priest. He's one of the easiest guys to work with, especially for a new guy to the company.
Always rock hard and ready to fuck, sometimes you have to hold him back. He pounds the arse off of Mark Coxx and Justin Blake as only a pro porn star can. Both Mark and Justin are feeling the thickness of Theo's cock by the end of the long day filming – they certainly earned their pay cheques! We still have to film one more scene with the cute 18-year-old Alex Silvers. He's got blond hair, a slim and sexy body, not to mention a gorgeous eight inch cock!
If you love oral sex and glory holes you're going to love this film as there's lots of wet, balls-deep throat action! Mark Coxx gives a stellar performance, as does James Dixon when he deep throats Kayden's nine inch cock… it's really not to be missed!! It's in the final scene that the priest finally does his penance too, but you'll have to watch the DVD to find out how that happens!
• Watch the trailer for Penance at www.bulldogbrutal.com and purchase the DVD at www.eurocremestore.com.