Gran Canaria, all year sun, sex, the world famous Yumbo Centre and of course Maspalomas Dunes. What more could a horny guy want?
---
All you have to do is book your flights, then find a sexy place to stay. QX has found the perfect place, the award winning Basement Studios, situated in the heart of the Maspalomas Gay Ghetto. Part holiday complex, part cruising area, they offer a truly unique way to experience the island. We caught up with owner and Managing Director of Basement Studios, Phil Brocklehurst, to find out the secrets behind the success of this infamous gay destination.
---
Phil, for those who do not already know, what is Basement Studios?
Basement Studios is more than a resort – it's a concept. Yes, we have bungalows, a pool and even a cruising area, but we are much more than that. We offer our guests the freedom to enjoy their holiday as they see fit. Each of our rooms is equipped with a sling and douche, our pool area is clothing optional and we have a large cruising area with a video room equipped with it's own sling. Our staff deliver breakfast to your terrace and all this is situated within a sun trap right across the road from the Yumbo Centre.
You say you offer your guests freedom, can you explain more?
Simply they can be naked or in swimwear all day long, they can play with our many day visitors in the cruising area or invite them back to their rooms. Our reception won't be surprised or unwelcoming when your friend from whichever sex app you use wants to get to your room. We offer a safe place for sex and cruising or just to relax in a nonjudgmental environment.
You mention day guests, do you get many people just coming for the day?
Oh yes, this is one of the things our guests love most about staying with us! Every day, 365 days a year, from 10am to 9pm locals and tourists come to Basement Studios to relax and play. Our pool area is flooded with sunlight and protected from the wind, so even if it's too windy for the beach, you can top up your tan with us, then pop out the back to fully enjoy your holiday horn. We also have our Sunday BBQ which attracts a lot of local Canary boys, horny after a weekend of partying in the Yumbo. We recently started a BBQ with the Bunker Resident DJ Christian M on a Tuesday which is also proving very popular.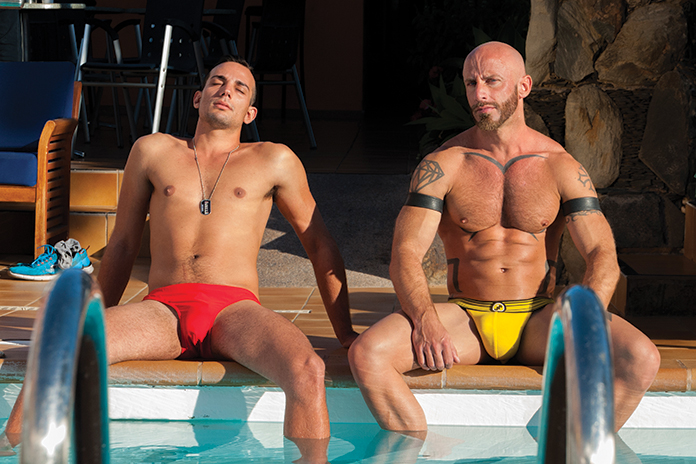 Wow, I am getting horny just thinking about it, Phil you are also the owner of Fetish Week, that must be fun to work on.
It really is, we came up with the idea of Fetish Week a few years ago and it has developed a life of its own. The success of Fetish Week is due to the partnerships we have developed with other gay businesses here in Maspalomas. By working together we have a festival that continues to grow and attract tourists to the island. We also work with international DJs and brands such as Hard On (London) and Into The Tank (Madrid) to offer the very best parties, too!
When is Fetish Week?
Maspalomas Fetish Week is the 6th to 14th October 2018, but don't forget we are also the joint organisers of Bear Carnival which is held from 10th to 19th March. And then of course you have two very successful Gay Pride events in May and November and Dunas Festival in August.
Gear up on your next visit to Gran Canaria at Mauu Fashion Store, C.C. Cita, retailing Fetish Fashion Gear from Maskulo, Timo-teo and Cellblock 13 www.facebook.com/mauu.fashionstore
Basement Studios is located at Avenida de Estados Unidos, 37, 35100 Playa del Ingles, Gran Canaria. Check out www.basementstudios.eu for further information and bookings.
For more information about Maspalomas Fetish Week go to their website www.maspalomasfetishweek.com