BelAmi, the European porn powerhouse, and CockyBoys.com, the American success story based on the West Coast of America, have released scenes from the upcoming DVD Cocky Friends on both BelAmiOnline.com and CockyBoys.com, and QXMEN can tell you that they're hot!

The collaboration began last year when CockyBoy Jesse Santana met BelAmi boy Luke Hamill in the UK to perform a scene together. It was clear from the start that the two had chemistry and the scene became a hit on both studios' websites that set the porn blogs abuzz.
Since then the demand grew to see them together again, so much so, that a new project Cocky Friends was conceived as a way to provide fans of both studios with more original content that results from the unique chemistry between the two companies. When the opportunity arose for Jesse to fly to Amsterdam to shoot with Luke again they both jumped at it instantly.
Only this time Jesse brought over a couple friends, fellow CockyBoys Bobby Clark and Skyler Caine. Not to be outdone, BelAmi sent Luke over with a few friends as well, Milo and Elijah Peters, Jean-Daniel Chagall, Colin Hewitt, Todd Rosset, Florian Nemec and Kris Evans. Suddenly, the second scene with Jesse and Luke became much more than just the two of them – it became a hot sex filled week in Amsterdam, all caught on camera.
From threesomes and foursomes, to intense one-on-one action scenes, the chemistry in the house was wild and uninhibited, making for some of the hottest scenes produced this year.
CockyBoys head, Kyle Majors, told QXMEN, "We are thrilled to be working with such a creative powerhouse in the business such as BelAmi. Their work is top notch and is obvious by the quality of the scenes in the Cocky Friends DVD. We look forward to showing fans of both studios the exceptional content that was shot in Amsterdam as we roll it out over the next few months leading up to the DVD release."
Look out for the full length DVD of Cocky Friends available early next year when it'll be reviewed in QXMEN.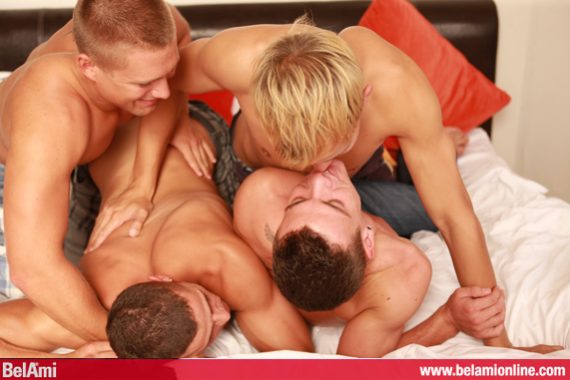 About BelAmiOnline.com
Founded 16 years ago, BelAmi has become the defining ideal in male sexual fantasy and the producer of some of the hottest and most memorable scenes in gay porn. Based in the fairy tale cities of Eastern Europe–Prague, Bratislava and Budapest–BelAmi continues to produce an unrivaled DVD collection while hosting the premiere mega site for gay porn on the web.
BelAmi Online packs more features, personalization options and original high-definition web content than the others.  And no other site features the men of BelAmi, the measure of male beauty in adult entertainment. With its cinematic quality BelAmi's presentation of sex is erotic performance so stunningly sexual and uncensored that it is seen as art by fans around the world.
About CockyBoys…
CockyBoys.com is the hottest and most inspired new site for high definition gay porn to have hit the web in years.  CockyBoys.com is based out of Southern California with Kyle Majors—the mastermind and Hollywood producer who started the edgy company in 2008—at the helm.  Since then he has built an impressive catalog of the hottest new content in adult entertainment into one of the most exciting and popular gay porn sites around.
Videos feature confident young men from around the west coast not pretending to be anything; you see these guys as they really are: no themes, no pretense, no gimmicks, just hot cocky men really into fucking and proud to do it for the cameras.  Feeling Cocky?  Check out CockyBoys.com.
---
Click here to visit BelAmi Online