I've always been a fan of the Pipedream products that come in to Clonezone. The company's based in Los Angeles and always manages to put a fun (and effective) spin on their affordable products. The style of the brand is unpretentious too, which I find makes it accessible to all types of customers.
---
I was sent Pipedream's Fantasy C-Ringz Rock Hard Ass-Gasm, a beautifully smooth silicone cock and ball ring with a reach-around vibrating prostate probe. The packaging is sleek in slate with holographic detailing and it's all very aesthetically pleasing. You wear the product as one unit, which rests against your sensitive bits really well.
This is a product I would recommend to people who are new to toys, the reason being it fits so comfortably and the size of the probe is unintimidating. Putting it on is simple and the packaging is explanatory, should you need help understanding the Ass-Gasm.
I am very single at the moment so I used this toy alone. Poor me, I guess. The fitted cock ring hugged the base of my shaft and balls really well, instantly helping me get harder than usual. You really 'feel' the pressure in your balls and I know (as someone who's tried cock rings) that it's going to enhance my orgasm.
I used some water based lube (ID Glide) on the Ass-Gasm's probe and slowly pushed it inside. When it had popped into place internally, I switched the vibrator on by clicking the button on the internal bullet. The vibration isn't THAT strong, but it's instantly pleasurable and internally ticklish.
I have a very sensitive 'P-Spot' so it made me go weak at the knees and got me harder in seconds! If you struggle to ever find your prostate, using toys like this helps. If you are investigating with your fingers, feel around for the part that makes you feel like you need to piss when you push on it.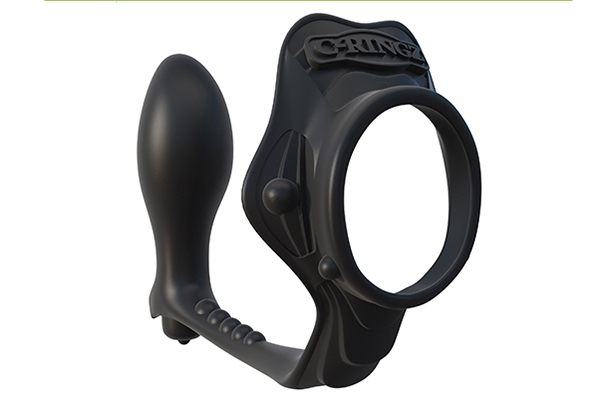 Enjoying it as it was, I kneeled back and rested the base of the probe on my feet (like I was praying) to push the probe more, which felt great. It has dotted ribs on the bar that reach across your perineum, and is lightly affected by the vibe. It isn't that loud so can be used discreetly.
I started to alternate with wanking at the same time, to satisfy both internal and external spots. It felt REALLY good, almost too good. So I had to slow down. I used it with the Blewit masturbator (featured in last month's column) to mix it up and test how it would feel when fucking someone.
The Rock Hard Ass-Gasm would be IDEAL for tops who want to experience anal penetration but begin slowly. It's great for guys who like prostate pleasure. Is it for guys who want to be stretched and fucked deep? No, absolutely not. The penetration is subtle, but if you're sensitive like myself and enjoy 'tingling' pleasure over 'stretching' then you should treat yourself to this toy. It's fucking brilliant!
Building up to orgasm was a lot of fun; it was so satisfying feeling the grip on the cock and balls alongside the internal vibe. I found myself reaching around to pull it 'in-and-out' for the pulsating pressure and feeling of being gently fingered.
I simply could NOT stay soft when using it. I made a point of trying to and I couldn't! The Ass-Gasm satisfies your cock, balls, perineum and your hole. It kind of has everything a pleasure-seeking guy wants. The orgasm was very good.
I can't elaborate enough that it felt really, really nice. It was an internal orgasm that exploded outwards, the tingling vibrations helping it last about 15 seconds longer than usual. Prostate-based orgasms are always going to make you feel a little weak afterwards, which I enjoy.
I felt like I needed to take a nap. We sent the Ass-Gasm to porn star Rocco Hard who gave it rave reviews. Tweet him to ask him what he thought! Switching the vibe off is a simple click of a button.
Taking the toy off can be tricky if you have lubey hands, so dry them off before trying to pull the ring back over your balls and shaft. Clean-up is easy. Spray it down with a toy cleaner and run it under the tap (avoiding the button on the vibe).
• You can get 20% off the Fantasy C-Ringz Rock Hard Ass-Gasm online at www.clonezone.co.uk by entering discount code 'TOPHER'. Treat yourself and let me know what you think [email protected].