Researchers at Oxford University recently named Canada as the most boring of the six countries that make up what's known as the Anglosphere (Australia, Canada, England, Ireland, New Zealand and the United States)… Well, all we can say is, for a boring nation, they can't half come up with some outrageous underwear! 
Founded in 1987, Canadian underwear and swimwear company Gregg Homme use the latest technologies and pioneering materials to transform classics such as the jock strap and briefs into its audacious, yet wearable, underwear.
Check out these new styles available online at QXShop.co.uk
---
BANDIT
The brand new Bandit collection tank top by Gregg Homme is made from a soft, leather-look fabric that's adorned with rugged-looking micro studs and features an adjustable lace-up neck with 5 metal eyelets on each side, a banded neckline and arm holes and the Gregg Homme metal logo tag centred at the back of the neck. The new briefs in the Bandit collection have an adjustable lace-up front with 6 metal eyelets on each side, a low-rise elastic waistband, centre-seamed seat, folded leg hems and the Gregg Homme metal logo tag at the rear.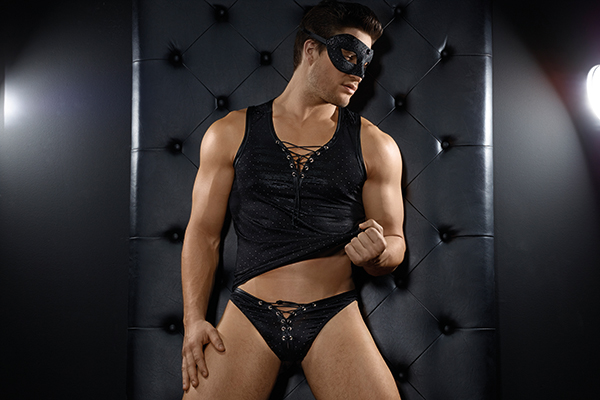 ---
VENOM
Gregg Homme's Venom range is their sexy spin on snakeskin made from an embossed fabric that's 95% polyester and 5% spandex. Choose from the Venom Tank Top, with matching edging on the collar and armholes and a metal Gregg Homme signature tag sewn on the upper front left shoulder, the Venom Boxer Brief with its seamless seat and the Venom Thong with a pouch that provides support and definition. Both have a one inch elastic waistband with the signature metal Gregg Homme logo sewn on the front.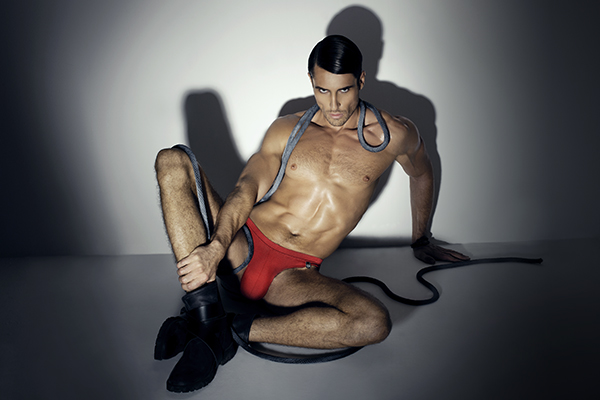 ---
CITY LIMIT
The City Limit range is made from a luxurious crushed leather effect fabric. Choose from the Boxer Brief that snugly fits your every curve and contour and features a centre and side-seamed pouch giving your package better definition, adjusted elastic leg bindings for added comfort and the signature Gregg Homme rubber crest sewn on the left flank. City Limit Briefs are not your run-of-the-mill briefs as they feature two detachable snaps on either side of the pouch for easy access! And we guarantee you won't have seen anything quite like these City Limit Second Edition Briefs before! With embroidered laser-cut holes in the back, a package defining pouch and a 3/4 inch waistband, these bad boys will certainly get you noticed at any underwear night and in the changing rooms down the gym. A word of advice though – don't fall asleep face down in the sun because you'll end up with a very odd-looking, mottled tanned butt cheeks!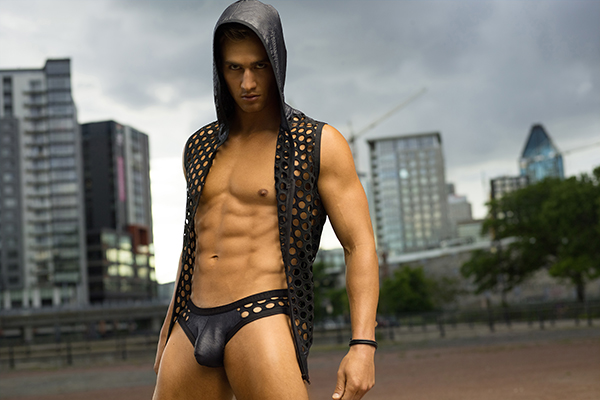 • Gregg Homme underwear, along with Barcode Berlin, ES Collection, Addicted.es and loads more, are available online at QXShop.co.uk, the UK-based online store that also stocks a massive range of aromas, lubes, sex toys, DVDs, magazines, fashion and gifts.
• QXShop process all orders received before midday that same day, and once dispatched, you should receive your order, sent by Registered Mail, within 24hrs.