We're in the midst of the festive period and while some of you dread this time of year with it's sickening Christmas adverts on TV and Christmas carols blasting out in every store you venture into (every store except Expectations we hasten to add!) the good news is that this month there are plenty of festive events and hot nights out at the capital's cruise bars and fetish clubs, 
---
Needless to say, you'll need to look your best at these events, so it makes sense to get into Expectations for the latest gear or some timeless classics.
If you've not done already then now's the perfect time to check out the Mister B Shop-in-Shop, which following Expectations' refit has tripled in size, as a number of Mister B items have been reduced in price.
To give you an idea, Mister B padded jeans are down £80, the Police short sleeve shirt is £40 less, the Mister B butt plug dog tail harness has been reduced by £29 to £120, the seriously hot rubber kilt is down from £179 to £154, the sexy two banded-jockstraps that were £55 are now £45, and black wrist restraints have reduced by a tenner to just £49!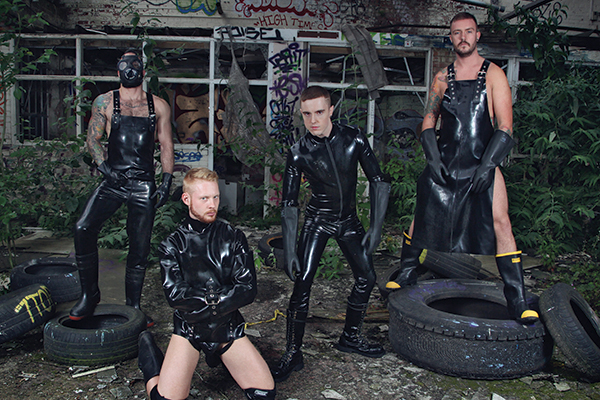 Of course, this is only a small selection of the bargains on offer in Expectations' Mister B Shop-in-Shop. Check out:
Mister B hoodie (£285) & jogging pants (£200)
Mister B halter harness (£134)
Mister B chest harness (£132) and sports shorts (£164)
Mister B chest harness, sports shorts and hoodie
Mister B black rubber tracksuit (£229)
Mister B short sleeve zipper shirt (£115) and Mister B blue/yellow vector shorts (£45)
Mister B parallel zip polo in B&W (£199), Police Trooper shirt in green (£115), red Polo track (£97) and Knightsbridge 10 or 20 hole boots (£73/90)
Mister B rubber overalls (£310), harness apron (£199) & Danish gas mask (£36)
If an item you're after has sold out, we've been reliably informed that there's a pretty quick turnaround to order them in… but don't leave it to the last minute guys!
And don't forget that if you like your gear to fit you like a glove, Expectations has an excellent bespoke leather and rubber made-to-measure service. If you're quick, you could have your dream outfit in time for Christmas, but don't waste any time and get down to Expectations or telephone the store now!
• Expectations: 75 Great Eastern Street, London EC2A 3RY (Tel: 020 7739 0292)