Do electrical currents make your balls buzz? If so, Electrastim might just be right up your alley…or asshole.
---
as the case may be. Specialising in all manner of electrical sexual stimulation devices, they should be your first port of call when you're planning to plug in and pull off. You need a stimulator box to power any of their electrodes and they have a range of erotic electro-stimulation units to suit all experience levels plus all MANNER of toys including dildos, probes, cock rings and more. Their safety-tested power boxes bring life to your electro play, transmitting electrical signals to your body. Choose between battery powered, mains powered and rechargeable models, each with a range of unique features to enhance your pleasure. Whether you're looking for your first beginner's kit or an expert-level stimulator, ElectraStim has something for your needs. Plus all of their stimulators come with a 1-year warranty which can be upgraded to 3 years FREE of charge, simply by registering it with them at www.electrastim.com!
Here's a few of the sexy shockers available in their online store:
---
FLICK EM60-M STIMULATION MULTI-PAC: £149
The ElectraStim EM60-M Flick Multipack includes 3 electrodes, an ElectraStim Flick single-channel stimulator and all of the necessary wires and accessories. Their rechargeable ElectraStim Flick EM60 Stimulator has a single stimulation channel, 7 stimulating patterns, 24 intensities and a revolutionary motion-sympathetic Flick Mode, offering an array of thrilling stimulation settings to experience. 4 x uni-polar ElectraPads, a bi-polar Silicone Noir Aura Probe (for anal use) and a pair of uni-polar ElectraLoops Cock Rings are included, making this multipack ideal for couples or men's solo play!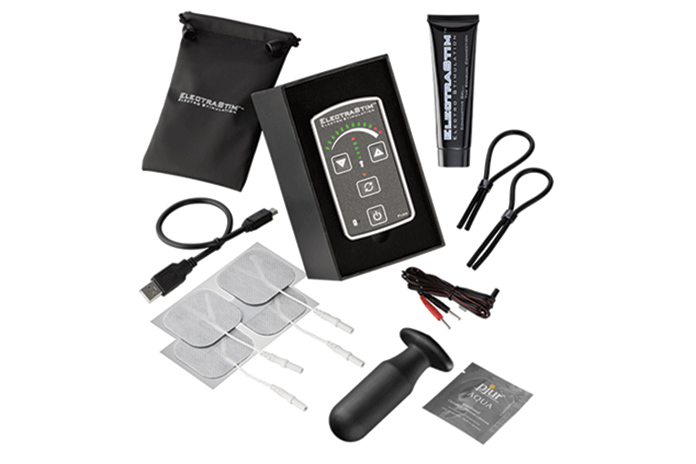 ---
ELECTRASTIM INVADER EXTREME ELECTRO BUTT PLUG – MEDIUM: £149
Invader might be the middle-sized butt plug in the ElectraStim Extreme range but there's nothing middle-of-the-road about it! This giant butt plug has an insertable length of 4.7 inches with an impressive 7.4-inch girth that will leave you feeling filled to the brim.
The incredibly heavy metal form offers intense pressure for firm stimulation of the prostate. Only advanced anal sex toy users should take on the Invader bi-polar butt plug challenge due to its huge proportions. You'll feel sensation over a big surface area with this plug, creating intensely pleasurable contractions in your ass and pelvic floor when plugged into any of their ElectraStim stimulators. Make sure you have a big bottle of water-based lubricant on standby, this giant anal probe needs plenty to assist insertion.
---
ELECTRASTIM JACK SOCKET E-STIM STROKER:

£79
The ElectraStim Jack Socket is a double award-winning compact realistic stroker. It has a curvaceous internal texture, skin-like movement and a lifelike feel, but the similarities with other men's sex toys ends there. With a squeezable outer case applying adjustable pressure and bipolar 2mm connection for an estim stimulator, the realistic sleeve comes to life; making your shaft throb and pulsate with pleasure. Relax and tighten your grip to enhance sensation and use plenty of water-based lube to intensify your pleasure with every stroke. Two sleeves also offer different textures specially designed and tested to provide the optimum stimulation. Standard has a raised bumps texture that squeezes you tightly for intense contact while the XL sleeve has an indented 'ribs' texture that produces a subtle suction sensation during use.