When you have one of the UK's leading events for the gay porn industry entering its fourth year and the spectre of Brexit looming, what do you do to show its business as usual? The answer is you throw open your event to Europe and believe that by coming together you will definitely be stronger!
---
The Prowler European Porn Awards takes place at Fire in Vauxhall, South London on Thursday 17th May and for the first time studios and performers from across the European gay industry will be on hand to mix with the cream of Great Britain. This year's glittering event will be hosted by a real giant of the gay porn world – the (in)famous Chi Chi LaRue – a name synonymous with some of Catalina and Falcon's ground-breaking videos. If you've heard of Hal Rockland, Joey Hart, Doug Jeffries, Rascal Exclusive's Matt Summers, Johnny Hazzard, and Eddie Stone, then you have Chi Chi to thank for that.
So how does this American porn legend feel about hosting this years awards? "I'm thrilled but I have some big shoes to fill next to Mr Pam who I know has been a great success for the last two years. But I'm very excited to be hosting and also DJ-ing at the after party. I love London and all the Porn Stars from across the pond so it gives me a chance to mingle with people I don't normally get to see and that's very exciting. London is one of the worlds major cultural centres and the gay porn industry in Europe is hotter than ever!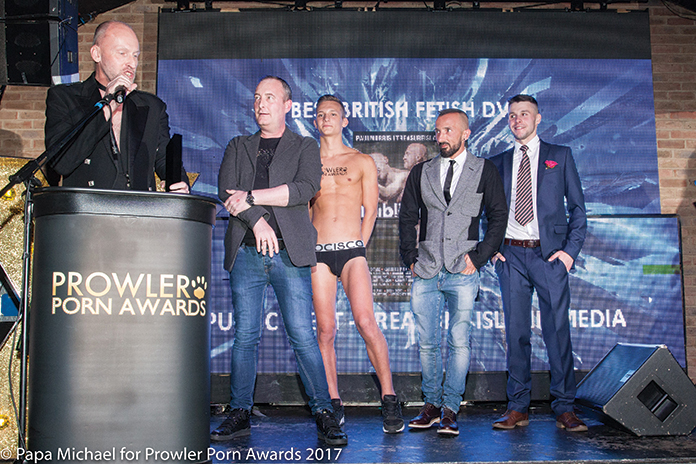 "When we discussed my hosting the night I thought it would also be great to carry on with the party afterwards. Last year I gather it was a very hot affair so I need to be on my toes on the night. I never really plan my DJ sets, I kind of feel out the crowd but my music sensibility is very gay happy world music. It will give me a chance to play some of my favourite music that I discovered while being in the UK and a lot more that will keep everyone going through this sex-fueled night – and into the early hours! Someone asked me what I am expecting from the after party; Well, I'm an equal opportunity cocksucker so I'm pretty open, but if I had to choose just one, just one, only one, it would definitely have to be Paddy O'Brien."
Not that playing at the Prowler European Porn Awards will be a new experience for Chi Chi as he has been DJ-ing at bars and clubs around the USA for quite some time. With Chi Chi's company, Channel 1 Releasing now one of the major players in the porn world, he is now the owner of a vast vault of videos that he has directed. With his name and background, this really is a triumph for the Prowler European Porn Awards and something Ben Willis, the driving force behind the awards is particularly pleased to announce "We have had four years of the awards just getting bigger and it made sense to get Europe to join in on the action. After all, many of our leading studios and Porn Stars are from the Continent. Last year we had the amazing Mr Pam and the glittery Danny Beard, what a great job they did. This year it goes up a notch again with Chi Chi LaRue and BRITAINS GOT TALENT semifinalist La Voix performing on stage. Yes, Europe will definitely be coming together this year!"
Adding in new categories to include European involvement has been a detailed affair but the usual favourites – Top, Bottom, Twink, Best Selling DVD, Daddy and much more are still there – now with European in the titles. In keeping with context and a wider audience, in 2018 there will also be an award for Social Media Personality. With so many studios and Porn Stars on social media, this is likely to be a very hard-fought category.
THURSDAY MAY 17th 2018 @ Fire Vauxhall. Doors Open: 8PM. With the official After Party kicking off straight after the ceremony with Live Sex, top DJ's & entertainment.
The Prowler European Porn Awards is always one of the most sociable and easy to attend gay events and tickets are now available online from www.outsavvy.com
The good news is that if you're an industry professional or work in the industry then you need to contact [email protected] for complimentary tickets.