Having been open for a few months now, owner Jonathan had been telling us that the all-new Fetish Freak shop in Oval SE5 (or FF as the sign says in the window so as not to upset the neighbours) was positively bursting with stock. So we dropped in one evening after work and, true to his word, the shop is once again like an Aladdin's cave!
 There's everything in-Store from cock pumps, dildos and butt plugs to leg-spreader bars, restraints, masks, whips and canes. And cock rings, cock straps, ball weights and ball stretchers to aromas, stimulants, condoms and more varieties of lube than you could shake a slippery stick at!Fetish Freak has a great range of fetish gear too and it's easy to walk away with a complete outfit, no matter what kink you're into.
There's rubber and leather (including the stunning new Elite range of leather jeans) sports gear, military outfits and accessories, wrestling suits, army boots and some seriously sexy underwear.One thing that makes Fetish Freak stand out from the rest is the amazing selection of vintage fetish gear individually sourced by Jonathan himself. You'll find biker jackets, leather jeans and old Levi 501s, denim jackets, military uniforms, t-shirts, shorts and loads more. All items are priced ridiculously low, so you'll not only get yourself a bargain, but you'll also have something that no one else will.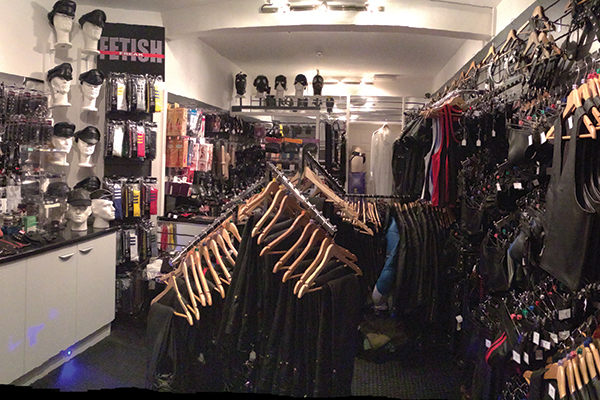 EXTENDED OPENING HOURS & IN-STORE EVENTS DURING FETISH WEEK LONDON
Fetish Freak will stay open until 9pm from Thursday 10th to Sunday 13th July during Fetish Week London, and we hear that there's all sorts of in-store events lined up including a raffle with horny leather goods including a pair of chaps and a harness as prizes! Tickets to all the Fetish Week London and SM Gays parties are available in-store too (cash only and NO commission to pay).
• GETTING THERE
By public transport it's a 2 minute walk from Oval Underground Station, or take a bus (36, 185 or 436) from Vauxhall Bus Station and alight at Kennington Park bus stop. Walk a short distance along Camberwell New Road until you reach Bolton Crescent on the left. Fetish Freak is next door to the 'Mr Dandy' fish and chip shop.
• FF Fetish Freak, 76 Bolton Crescent, London SE5 0SE. Tel: 020 7091 0031
• OPENING TIMES: Monday: 11am-6.30pm, Tuesday: Closed, Wed-Sat: 11am-6.30pm, Sunday: 12noon-5pm