They've doubled the number of events and added a Leather Market, so this year's Manchester Leather Weekend, MLW16, looks set to be bigger and better than ever!
---
The 'Annual Celebration Of Leather Life In Manchester' in aid of The Albert Kennedy Trust kicks off at 7pm on Friday September 30th there's a Leather Dinner at Delicatezze, from 9pm to 11pm go and meet up with the rest of the leather guys in town at the Welcome Drinks at REM Bar then carry on right through 'til 4am at Meat-Up at the Back Door on Richmond Street.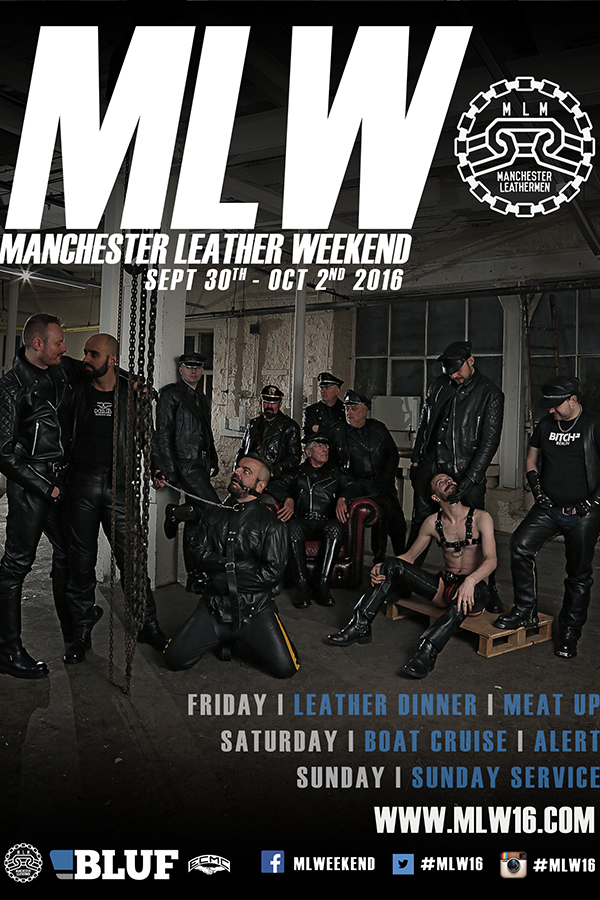 On Saturday from midday to 4pm it's the Kennel Club Manchester's Human Dog and Pup Social or for a more sedate afternoon make sure you're at Sackville Gardens for the Manchester LGBT Walking Tour at 2pm. Head up the gang plank with 100 horny Leathermen on the Leather Canal Cruise! The 3-hour long cruise – with on-board bar – sets sail down the canal of Canal Street at 7pm (check website for departure point).
Cigars and leather go together like motorbikes and leather, and if you're a smokin' leatherman you'll want to be at Delicatezze for SmokeOut from 8pm 'til midnight. Of course, the main clubbing event of MLW16 is at Alert!, the cornerstone of the fetish scene in Manchester. The Leather Special starts at 10pm and goes on 'til 4am with music provided by Lawerence Clarke, Jim Dusty, Pete Simpson, Brett Denning and Sam Porter. Expect guys from all over the U.K. and further afield, with a healthy number of them in leather! So that everyone gets a lie in on Sunday the Leather Brunch is at 12 midday 'til 3 (venue tbc) and for guys who like bondage in gear there's a Mancsbound MLW16 Special at Eagle from midday 'til 4pm.
It's not just bondage at Mancsbound. There's also flogging and CP too and we've heard that there's going to be a soft play area for pups, dogs and handlers which can also be used for hog ties or wrestling. From 1pm 'til 6 it's Sunday Cellar at HML on Princess Street.
There will be a relaxed dress code so you can wear as much or little leather as you like! There's an afternoon of top cabaret at Sunday Service over at Eagle from 2pm 'til 6, then round off the weekend from 5 'til 9pm at REM Bar and sing your lungs out at the Beareoke MLW16 Special!
• Full details at www.mlw16.com.