Junior Stellano was just 18-years-old when, for a bet, he stepped into a tattoo parlour in New Orleans and was forever branded with the tiny heart on his right butt cheek that has become his trademark.
"My friends all knew my father would kill me if I got a tattoo," he remembers. "They dared me to do it and I was so trashed (on alcohol), I did.
My father saw it and laughed his ass off. A few years later my Dad, brother and I all got tattoos together." Sadly, his father passed away in 2003 and due to an unusual set of circumstances, his death lead to Stellano joining Rentboy.com.
Surprisingly to some, he calls escorting the best thing that ever happened to him.  He made lots of money, it lead to him becoming a star of (strip) stage and (adult) screen, and most recently, he was chosen to grace the cover of the website's annual calendar.
So why did the world's leading gigolo announce this month that he is leaving the escorting biz?  Mark Gray's inquiring mind needed to know.
Why do you think Rentboy.com chose you as their 2013 calendar boy?
There are thousands of guys out there who are better looking than me so I'd like to think I was chosen for my winning personality.
Are you "Just a Gigolo"? 
There is way more to me than that. I earned my MBA and have worked corporate jobs since I graduated from grad school.
How did you get into escorting?
My father was a successful businessman and, when he passed away a few years ago, my family ended up in a legal battle where all our assets were frozen. I didn't make enough money at my 9-5 to see my family through the tough time, so I pimped myself out and it turned out to be the best thing I have ever done.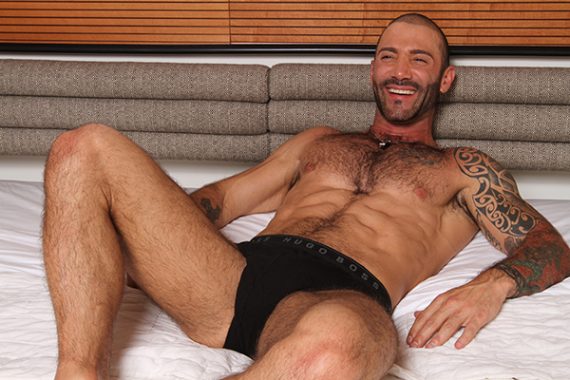 Becoming an escort was the best thing you ever did?
It brought the world to my doorstep and opened so many opportunities. When clients realised there was more to me then "just a gigolo", they treated me with respect and I was able to work with a higher-class client base. Then after I became an international porn model, the Junior Stellano brand went into over-drive. I had my family's back covered and then some.
Why have you decided to retire from the biz?
I landed an amazing job in fashion and was recently promoted to VP. Rentboy.com opened the door but the rest was all me. Also, my family's difficult financial situation ended and we came out on top. My father would have been proud. My family and our future are secure once again. But I do miss being a rent boy.
What would you like people to know about the rent boy profession?
People should know that rent boys are not sex machines or toys. We are people with feelings and emotions. There are escorts who have bright futures ahead of them. Like myself, many are educated and come from good homes and were taught morals and manners and are using Rentboy.com as a stepping-stone to bigger things. Some are escorting because of the poor economic situation in our country.
Can anyone be a rent boy?
It takes a certain type of guy to do what we do. It's not easy to separate work from play. Clients should also know hard-working rent boys are not out to con, rob or hurt them in any way. They just want to put food on the table.
"I pimped myself out and it turned out to be the best thing I have ever done."
How has the escort business fared in this down economy?
Sex sells. I had clients on unemployment hire me.
Would you ever pay for a rent boy?  
It's funny you should ask that question and I am surprised you did. Yes! I have paid for many escorts, and trust me they are very happy when they walk in my door.
Who is someone you have paid for?
I have so my many good friends in the business from all over the world, so that's a question I can't answer. I have my privacy too.
Are you single?
Now that escorting is over and my life is about family and career, I have started to date again. I recently met someone special. I'm not sure I was ever really in love before because I have never felt the feelings I feel now. I think I'm in love.
How does he feel about your porn career?
He's okay with a few more years of me making porn. It takes a mature, secure, real man to see past such things. My man loves me and he is proud of me and proud to be with me.
What are you most looking forward to in 2013?
I look forward to seeing where my new relationship will take me. I look forward to getting back to work with some of my favourite porn studios and making some awesome new movies, and I look forward to being the best VP my company has ever had.
• Rentboy.com's 2013 GIGOLO calendar is available on Amazon.com.