Kennedy Carter first came onto our radar when he featured on the cover of the Valentine's issue of QXMEN's sister magazine QX International. At the time we thought he was hot, but we never could have predicted his meteoric rise in the porn industry. Having worked for some of today's biggest studios, the sexy 24-year-old redhead has recently become the first British guy to be signed as a Raging Stallion Exclusive performer.
Where were you born and raised, and where do you live now?
I grew up in Cheltenham, in Gloucestershire, and now live here in London.
So, what was your profession before you started working in the porn industry?
I worked for a big international corporation in a project delivery role. I can't really explain it without it sounding really boring!
And how did you get into the business?
I quit my job to start university and began doing porn quickly after that. It started as just a way to make money while I studied but I fell in love with it pretty quickly!
Have you told your folks about your new vocation?
Yeah my mum is really cool about it all, as long as I'm still concentrating at school! When I got signed as an exclusive to Raging Stallion I called her to tell her, she had no idea what it really meant but was just happy I was so pleased about it. My twin brother thinks it's pretty funny that the little tubby ginger kid he used to play video games with is now supposed to be a sex symbol.
"MY TWIN BROTHER THINKS IT'S PRETTY FUNNY THAT THE LITTLE TUBBY GINGER KID HE USED TO PLAY VIDEO GAMES WITH IS NOW SUPPOSED TO BE A SEX SYMBOL."
What was the name of your first movie?
My first scene was with Cazzo in Berlin, for a movie called Model Check 2. I then worked quite a lot with the lovely guys at UKNakedMen before I started working in the U.S.
Were you nervous doing your first scene?
Weirdly, no. I've always been an exhibitionist so it felt pretty natural to be naked and fucking in front of other people.
Are you top, bottom or versatile?
I would say it's pretty much 50/50. If the guy is a big muscle daddy, or has a big dick, I get very passive. If the guy is my age, or has a really great butt, I like to be active. Even when I'm completely bottom though I'm still hypnotised by a nice big ass more than anything.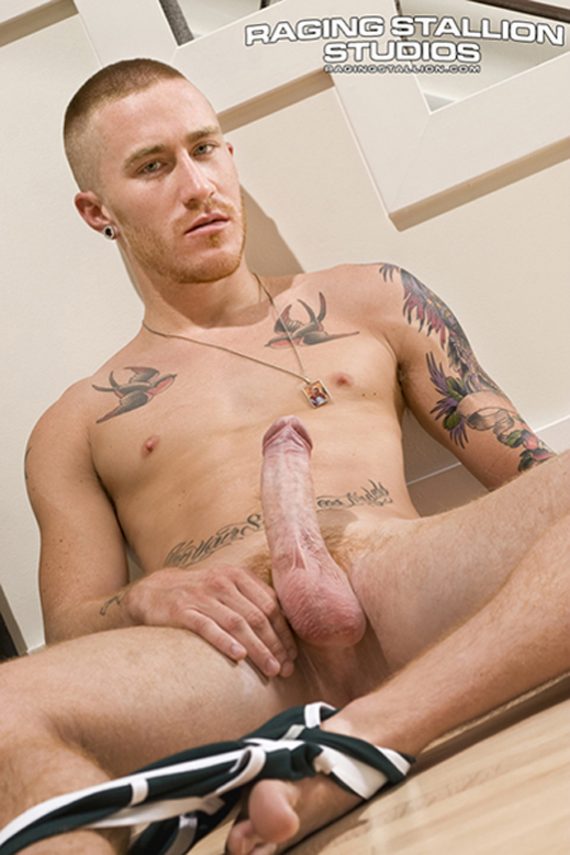 Who's the hottest TOP in the industry?
I have to say for sheer size, filming with Tim Kruger will be difficult to beat.
And the hottest BOTTOM?
I would nominate my buddy Chris Porter, that kid can take a pounding.
What's your favourite position?
Doggy style. I like being on all fours with my ass up in the air if I'm getting fucked as it's very submissive, and if being active I like to look down at his ass while I'm pounding it; one of the sexiest parts of a guy is his lower back and waist.
Who's your porn pin-up?
My current porn crush is Robert Axel. His smile, his muscles, his colouring… Everything about him makes me go a little bit weak at the knees.
So what really turns Kennedy Carter on?
All kinds of stuff; I love passionate sex with someone I'm in love with but also I'm a sucker for big group sessions with lots of hot muscle guys all taking turns with each other.
You've worked major U.S. studios like Hot House and now you're a Raging Stallion Exclusive… So what can we look forward to next?
You can expect some more great movies from Raging Stallion; two that I have shot will be out soon, and I will be filming again in the new year. You can tune into www.NakedSword.com for Golden Gate, a really awesome web series that starts this month, and watch out for my blog www.thatkidkennedycarter.com which will be live soon. I'm also performing at lots of clubs in Europe and America, starting with fc-uk in Athens on the 26th of November.
If you had the chance to direct a scene and cast the other performers, who would you choose and what would happen?
Hmmm… I guess we could do a team version of Naked Kombat, the great wrestling site run by Kink.com. We could have the men of Titan versus the men of Falcon, Hot House versus Colt, Next Door Male against Channel 1… I think the Raging Stallion team would be hard to beat though, we have some pretty tough guys! Either that or just me and Robert Axel on a picnic blanket on the beach, ha ha.
Do you get recognised in the street?
Sometimes in clubs, much more in San Francisco where the studio is based. Although I'm getting noticed more here since you guys featured that big picture of Chris Porter sucking my cock in Don't Ask, Just Fuck a couple of issues ago!
What do you do to relax?
This is a bit of a boner killer, but I spend most of my time in the British Library studying: I'm doing a degree in Spanish with Latin American history so I tend to relax with my head in a book!
Do you have a boyfriend?
No, I'm single.
If the world were to end tomorrow what would you rush out and do?
Find someone to fall in love with.
Finally Kennedy, describe yourself in three words.
Usually kinda naked.
---
www.ragingstallion.com