NINE (YES NINE) DAYS OF FETISH AND SUNSHINE!
---
In just four years, Maspalomas Fetish Week has become so successful that this year it has added two extra days to its itinerary just so it could fit in all the venues and their individual events. So technically it shouldn't be called Maspalomas Fetish Week any more, but Maspalomas Fetish Nine Days or Maspalomas Fetish Week & Two Days instead…
Now one of Europe´s biggest fetish gatherings, Maspalomas Fetish Week will have a main event every night over the official nine days catering to all niches of the fetish community. So whether you're into leather, sports-gear, military, jockstraps, naked, rubber… wet or dry, there´s plenty to ensure you´ll have a great time!
Bunker, as the largest venue, operates on three floors throughout the week. There will be dance/disco with no clothing restrictions upstairs while the middle floor hosts bar, porn and general areas.
But, of course, it's down underground where most of the action takes place in Bunker's maze of darkrooms, toilets, cabins and beds, etc. Supporting Bunker are various other excellent venues, such as Cruise Bar, Construction, Cellar Bar, Reds, ZOO, The Box and Wunderbar, all of which have years of experience in gay fetish and dirty nightlife. Recon, Daddi and Into The Tank are all set-up for amazing parties that will go from dusk 'til the early hours.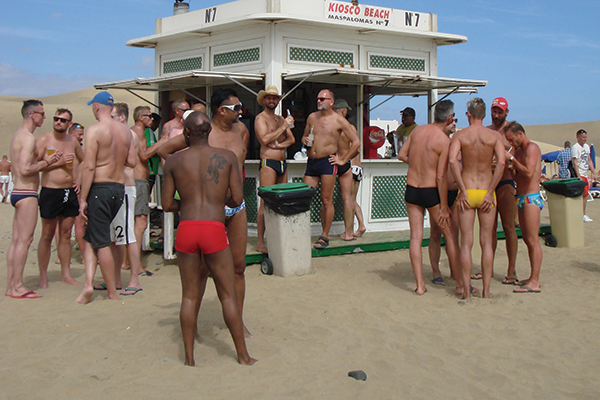 By its location, the Yumbo Centre in Gran Canaria is the perfect location for men searching for men. As Europe´s leading gay destination, it's filled with bars, clubs, cafes and restaurants, all designed to keep you busy. Sitting right by the coast also helps, with cruising dunes and gay beaches abundant. Daytimes during Fetish Week are filled up with pool parties, BBQs and boat trips, with Basement Studios and Tropical La Zona, the places to be seen.
There's even a Comedy Day and a Eurovision Night. So, if daytimes are more your thing, you´ll enjoy Fetish Week just as much as the nighttime party animals!
So book your flight, pack your suitcase, check in and then check out all the hot guys at Maspalomas Fetish Week 2015!
• For full details go to www.maspalomasfetishweek.com