With 2 million members worldwide, Recon is the world's largest hook up site for gay men into fetish, and with over 15 years of connecting men into leather, rubber, BDSM and kink, it's safe to say that what Team Recon don't know about gay fetish isn't worth knowing! 
---
Fetish has become a normal part of the gay lifestyle and to reflect this Recon's latest advertising campaign has brought gay fetish dating to the streets of the UK's capital with adverts on eleven London phone boxes. So next time you're out and about, see if you can spot one of these ground breaking ads which have made London's streets a fair bit kinkier!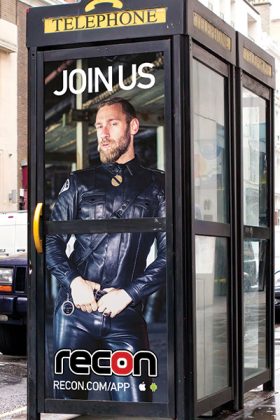 Of course there's one week of the year when the capital's streets get a whole lot kinkier and that's Recon's Fetish Week London (FWL), which this year runs from July 10th – 17th.
Now in its seventh year, FWL returns to UK's capital from July 10th – 17th with sleazy events that focus on the fetish community, FWL's world famous cruise parties, plus, we've been reliably informed, some exciting new twists and surprises… So save the date and get ready for one of the world's largest and filthiest fetish and kink events!
Recon aren't only about filth and fetish though. Last year they ran their annual World AIDS Day campaign, to raise money for HIV awareness charity GMFA, and with the help of its generous members, raised almost £13,000 for this incredible and deserving cause.
Matthew Hodson, CEO of GMFA, said, "At GMFA we know that by providing honest, frank sexual health information to gay and bisexual men we can improve sexual safety and challenge HIV related stigma.
Thanks to the astonishing generosity and support that GMFA received from Recon and its members over World AIDS Day we will continue to provide smart, sex-positive sexual health information to gay and bisexual men, all around the world, via GMFA's website and the FS online magazine. A heartfelt thank you to you all."
It's not surprising then that Recon has been nominated for Business of the Year at the 2016 X-Awards!
Also known as The Gay Fetish Awards, the X-Awards Awards aim to place the public focus on people, companies and organisations that have contributed to the development and prosperity of the European gay fetish scene and helped remove the stigma surrounding fetish and fostered tolerance and acceptance within society.
The winners of the X-Awards will be announced at a ceremony at the Darklands Gay Fetish Festival in Antwerp, Belgium on February 21st.