Ahead of this year's Mr Hoist Contest we caught up with The Hoist's head honcho, the irrepressible Unkut Kurt, to get the latest news from the UK's hottest fetish club…
---
You're back hosting the proceedings this year… What can we expect on the night?
Can you believe this is our 20th year! Therefore, I want to give the boys exactly what they want – and that's a damn good show! Mr Hoist is all about gear and kinky fetish stuff so expect the best of the best!
What attributes do you need to win the title of Mr Hoist?
You don't need 17 inch biceps or a perfect six pack, because that's not what the contest is about. What counts more than anything is personality, a great attitude and a sense of fun. Just be real and down to earth guys… Oh, and being kinky definitely helps too! Also, check your closet because Mr Hoist is about fetish gear and kinky stuff. So, if your only item of fetish clothing is a pair of Bridget Jones style rubber knickers then you'd better get yourself along to Expectations, one of the best leather and fetish stores on the planet! And don't forget; if you're thinking of competing make sure you tell all your mates. The audience gets to decide the winner so you'll want to bring as many friends down on the night so they can all vote for you!
Any tips for budding contestants?
Register early! Come down around 10pm when the club opens and tell the bar staff that you want to compete. Why? Because the contest is limited to strictly ten guys. Since the contest will give you a chance to represent the UK at this year's International Mr Leather contest in Chicago you might wanna read up a bit about leather and gay fetish history. Five minutes on Wikipedia will do it. Cruise the MC of the night, on Recon or Gaydar and, even if you think he's too kinky for you (as if!) tell him how sexy he looks! Be prepared to strike up a conversation with the bar staff. They might not have a vote in the contest itself but they'll slip you the odd free Vodka Red Bull later on!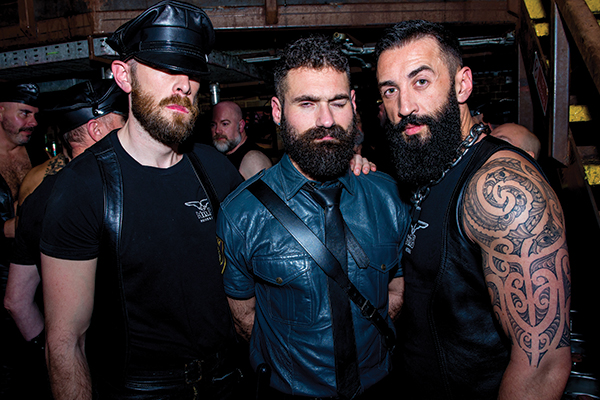 We hear that this year there's over £2,000 in prizes! Wow, tell us more…
All 10 contestants instantly win free memberships to the Hoist just for entering, and the winner will receive vouchers courtesy of Expectations!
And is it true that you can win a week at The Hoist Basements in Berlin just by turning up?
Yep, The Hoist Basements are giving away a holiday just for coming through the door! You don't need to enter the Mr Hoist Contest because it's all down to your coat check ticket! And if your lucky number is drawn on the night, it's bon voyage to the Hoist and "willkommen Berlin"!
Tell us about The Hoist's new alliance with Expectations…
The Hoist only goes for the best and Expectations is definitely the best fetish store in the world… Correction: the best fetish store in the entire fucking universe! Not only do they have a huge range of rubber, leather and fetish gear they also stock playroom equipment and accessories, hard core DVDs, aromas, lubes, toys… You name it, they've got it! My favourite Expectations item right now is a pair of premium leathers jeans, which I love to combine with a sexy rubber jock underneath… I'm getting hard just talking about it! So we thought let's hook up with Expectations and kick ass! Watch this space guys as there's going to be some mind-blowing fetish parties coming your way very soon!
And what's the new Red Zone?
The Hoist has not only joined forces with Expectations but also UKRED bringing quality RED Master Leather Slings to the Hoist. We've formed a unique tri-partnership with Expectations and UKRED with a goal to get as many guys into RED Slings as possible! We thought it would be hot to give our perverted Hoist customers the opportunity of experiencing the RED Master Leather Sling and accessories first hand. It also means improved play spaces at the Hoist which has made our fetish hungry customers very happy!
Looking forward, what are your plans for The Hoist?
Over this past year we have been changing the venue, and with the introduction of Hoist Private we've created some of the most sexy and fantastic packed private parties on the planet! They're invitation only events and have seen a completely new, younger generation coming through our doors, with a completely fresh outlook on what fetish is. We've been running mixed events as well as those still strictly for men, on Saturday nights we've brought fetish back in the main arch with Huge Massive Hung and Sunday's SBN and NBN are busier than ever with both arches open giving guys four levels of fun in the new Red Zones.
• The Hoist, Railway Arches 47b & 47c, South Lambeth Road, Vauxhall, London SW8 1SR