The last six years in the life of porn studio FreshSX has not only passed incredibly quickly but the growth from a small studio to where they are today has just been amazing.
The studio was started following an obvious niche for top quality, reality hardcore porn films and judging by today's sales the business model really worked.
We asked the studio's Director Andy O'Neil to name the most popular models over the past six years, which was not an easy question seeing as the studio works with some of the hottest guys around.
After some thought Andy has given us his six-of-the-best.
MATT HUGHES [2008]
Take a tall straight English guy with a good body and a hairy chest and you begin to get excited. Add to this a cock nearly a foot long and you have found gold. Matt is the stuff of dreams and in the movie Fuck It's Huge his assets are put to good use!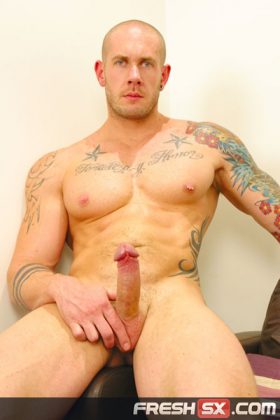 HARLEY EVERETT [2011]
FreshSX can never be accused of not introducing variety into their movies. The recently released Dads Fuck Lads 4 proves Harley is definitely 'the Daddy' no questions asked.
Here is a guy who takes body building to the next level and every inch of him reflects his efforts. Harley is unquestionably 'Man of the Year' and we urge you to reserve your copy of his latest movie and judge for yourself.
JOSH RUBENS [2006]
JOSH'S well-defined and honed body quickly made him a popular choice and his movies were always quick to sell.
His blue eyes and blond hair had him returning to the studio and in a short while he had proved to be one of the most popular models on FreshSX.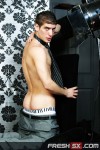 FRAN K [2010]
LAST year this young twink from Spain was the studio's most asked for guy and you just have to look at his photographs on FreshSX.com to see why. In last year's big movie Suited To Fuck, Fran puts his cute arse to work and brought a new meaning to the expression 'power bottom'.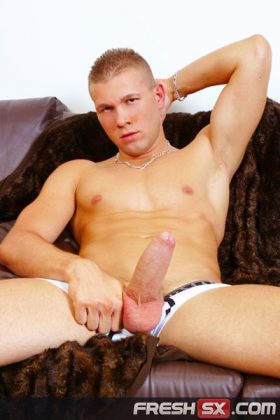 JORDAN FOX [2009]
Jordan comes from France and has that certain French 'je ne sais quoi'. He's not quite the quintessential cute guy as Jordan is someone who's firmly in control and remains the epitome of masculinity.
At six feet tall and weighing 165lbs it's obvious that he works out and cares about his body. I doubt that when he takes a shower at his gym he is short of company.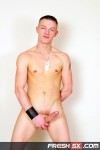 KAI CRUZ [2007]
Kai is best described as an "English lad" and his passion for sex is very evident in his movies.
Due to popular demand FreshSX made the movie Diary Of A Porn Star and his fans loved every minute, watching him in action. Kai remains one of the studio's all time greats.
→ WIN 6 OF THE BEST FROM FRESHSX! To celebrate the studio's success over the past six years, FreshSX is giving away six copies of each of the movies staring the guys above. To enter just send an email to [email protected] and answer this question: How many movies has FreshSX favourite Josh Rubens starred in? Closing date for entries is August 31st 2011.