Marco Marco is the Hollywood based design house that has created some of the most iconic pop star costumes of recent years, such as Iggy Azalea's spider web jumpsuit, Katy Perry's cupcake bra and Nicki Minaj's rainbow, cuddly toy dress.
---
So you'll understand why we were a bit confused when we heard that Clonezone is now Marco Marco's exclusive UK stockist! That was, of course, before we found out that Marco Marco also has a hot line of men's underwear and apparel, including sexy body defining mesh briefs in vibrant shades of purple, green, electric blue and neon pink, gorgeous tailored sports shorts, soft Spandex panelled leggings, slim fit, lightweight zip-up hoodies and iconic 'MM Heartbeat' Snapbacks caps.
Here's what the Clonezone Team found out when they met 31-year-old Californian Marco Morante, the man behind Marco Marco…
Hi Marco! How did you get into making men's underwear?
I spent my first 12 years as a designer creating costumes for music videos, television and tours.  I started making men's undies because it's the only thing I ever really want to see men in.
Do you remember the first celebrity you dressed? How did it feel?
Yes!  I was just new to town, and I was asked to make some shirts for Will.i.am.  It was all very strange and I was so new to the whole process that it didn't really hit me. But about a year later, I made a gold mini dress for Fergie's Glamorous video and I really felt like I'd broken into something new. It was very exciting for me and definitely got me hooked to making custom clothing for celebrities.
Who is your dream person to dress?
I just want the opportunity to keep doing what I'm doing; I don't care who it is for as long as I'm excited about doing it. I'm a hedonist in that way.
Lots of people found out about Marco Marco after your runway show at Style Fashion Week in Los Angeles… Did everything change for you then?
Yes, kind of.  It was this weird moment where we put this little show up online, and literally watched the hits go up by 50k every day. We were over 300k in the first week for what was essentially my first show.  Now people from all over the world come hang out with me at the studio and talk about fashion.  It's been amazingly humbling. Then again, in a lot of ways, things stayed exactly the same – I'm still in the same studio every day making outfits and getting yelled at by my partner for being late LOL.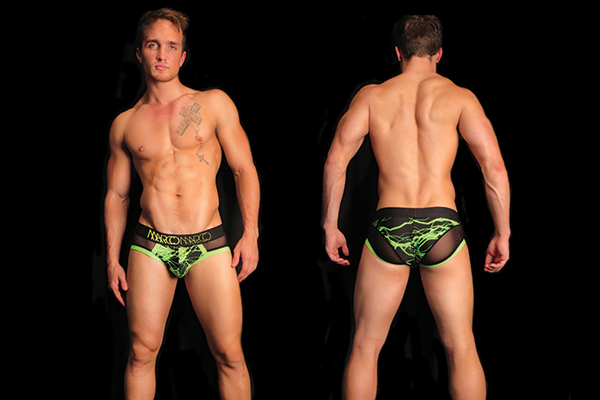 Are you excited to see the British guys wearing your pieces?
Fuck yes I am! Nothing like a good Brit to get the blood pumping.
How would you describe the Marco Marco 'look' to a new customer?
I like to have fun at all times, day and night.  I live my life like it's my only one I have and I hope the clothes reflect that. A Marco Marco boy isn't interested in a good impression, he's interested in a lasting one.
What would you say to the guy who REALLY wants to wear the leggings but is shy?
I would say, "Step yo dick up and put on the damn leggings!" If you REALLY want to do something and you don't, the only person you're letting down is yourself.
Your underwear will be shown off on June 27th during London LGBT Pride to over 750k people… Are you excited?
I'm SO excited for the release during London Pride! The only way I could be more excited is if I could get over there and see it in person! You guys better take pictures for me!
What sets Marco Marco apart from other brands on the market?
I think we have a little more fun, but we aren't really about being silly.  It's about being confident and fearless, and acting accordingly.
How do you feel about collaborating with Clonezone?
I'm just so excited to be able to have my products in the UK and available to all the adorable boys living there!  And I love that I'm doing it with Clonezone!
• Check out Marco Marco underwear and apparel in your local Clonezone store and online at www.clonezone.co.uk 
Flagship Store – Soho, London: 35 Old Compton Street, London W1D 5JX
Earls Court, London: 266 Old Brompton Road, London SW5 9HR
Birmingham: 84 Hurst Street, Birmingham B5 4TD
Manchester: 36-38 Sackville Street, Manchester M1 3WA