We've all heard the rumours and tittle-tattle of what really goes on behind the scenes of the 'adult entertainment industry', its workings and its effect on society. But seeing as those of us who work in it are as ordinary and down to earth as apple pie and whipped, white, spunky looking cream, we wanted to publish the definitive guide to clearing up some of the crap that's out there.
By Maxwell B
THE FLUFFER IS A REAL JOB.
Crap! We've never heard of anyone being employed just to suck cock on set. Fluffing is just a term used for any old mouth or hand that's free on set, be it another model, the production assistant or the director who gives a little helping hand in getting the models excited.
ALL NEW MODELS GO ON THE CASTING COUCH.
Balderdash! Some companies will want a new guy to strip off and wank at a casting session or sometimes even have sex with another guy in front of the camera to prove he can perform (usually so the company can flog off the footage as extra porn). That's not always the case and a lot of casting is done just from photos and meeting the model on a professional basis to see if they are personal, reliable and have not photo-shopped ten years off themselves in real life.
ALL PORN SHOOT ARE JUST BOOZY, DRUG FUELLED ORGIES.
If only! That's complete twaddle – it would be impossible to get a scene shot if everyone on set was high and rampantly fucking everything that moved. Sure, some scenes are played out as orgies but they are all stage-managed to some degree. Some crappy, amateur orgy stuff is floating around out there for sure and some of the models in heavy fisting films may – or may not – have had a little something to loosen them up a bit we suspect.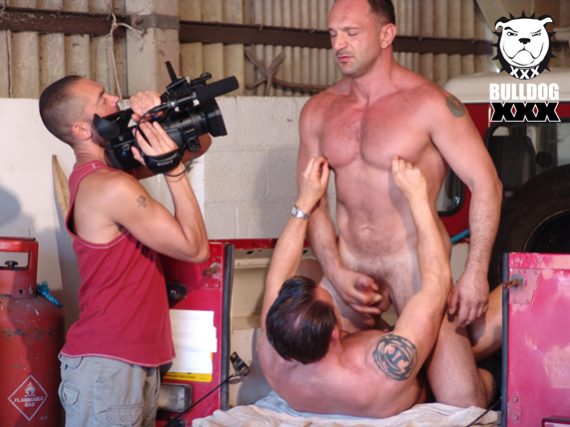 ALL PORN STARS ARE PROZZIES AND SLAGS.
Pants! Sure, some models escort as well – it all helps their film sales – and most gay men are slags anyway.  But most porn stars have regular jobs and come from all kinds of jobs and backgrounds and merely use porn as a second income – and no, not to pay for their cocaine habit.
PORN STARS ARE UP FOR IT – AND ANYTHING – ANYTIME.
You are, more like! Porn stars are human beings and have libidos and sex lives as varied as the rest of us. Naturally a high sex drive and a healthy lust for sex helps in this profession, but at the end of the day, they just want to go home and put their feet up.
SYLVESTER STALLONE WAS A PORN STAR.
Absolutely! It was called 'Party At Kitty & Studs' and was made in the early 70s when Sly was a struggling (and still is) actor before he made it as a 1980's arrogant action mega-star. The film was re-cut and re-named after he became famous as 'The Italian Stallion', but on viewing the film, they are clearly not referring to his cock in the 'stallion' terms.
BEING IN A PORN FILM CAN RUIN YOUR CAREER.
Depends! If you're planning to go into politics, the church, reality TV or some other corrupt, degenerate, perverse profession then popping up on the front page of The Daily Tits in an expose on your shady past porn career might mean you'll attract some adverse attention. Being in porn in The West is not illegal but some high brow or commercially, ethically sensitive (stuck up, straight laced) companies could see it as you bringing their name into disrepute if you porn past is discovered.
PORN PRODUCTION COMPANIES ARE RUN BY CROOKS AND PERVERTS.
Hmmm!….. Well not us here that's for sure. Some may have flouted a few parking tickets or not paid their TV licence but we've yet to rub shoulders with any real wrong do-ers. Sure, there are bad apples in all professions and there have been cases of leering porn producers bordering on the unscrupulous with young models, and some distributors – who will remain nameless – have not been completely honest with their business dealings, but overall – how often do you hear of pornographers being banged up?
20% OF CUM SHOTS ARE FAKE.
Debatable! Ok, yes, we admit, some cum shots are faked. Sometimes the model just can't cum, he broke the rules by going out and getting drug fucked the night before, or takes too long and the director just wants to get home and watch X Factor. Some fake cum shots are achieved with lube in a pin-pricked condom hidden in the hand; editing and camera angles are also employed to fake the effect; others techniques use some tricks pulled from the special effects industry – but we're not going to give away all our secrets as to how it's done!
---
Even more salacious shocks, scandal, reveals and revelations to come in Part 2!
Maxwell B is the director of over 20 films for Bulldog XXX and Alphamalemedia