---
TITUS Ribbed Butt Plugs
Small | Dimensions:
Circumference at Widest Point – 5 inches
Insertable Length – 3.2 inches
Ribs Length – 0.4 inches
Medium | Dimensions
Circumference at Widest Point – 5.8 inches
Insertable Length – 4.1 inches
Ribs Length – 0.5 inches
Large | Dimensions:
Circumference at Widest Point – 6.6 inches
Insertable Length – 5 inches
Ribs Length – 0.5 inches
This beautiful tapered anal sex toy is smooth, supple and made from beautifully soft medical-grade silicone. The bulb shaped plug inserts easily into your hole, with your sphincter gripping to the girth, and bringing the plug inside for the plugged 'full' feeling. The expanding and simplifying shape sits naturally in place.
As the plug simplifies, three gorgeous ribs sit on it's neck, at the entrance to your anus, waking up the sensitive nerve endings and delivering pleasure as you squeeze and release. The flared base gives extra sensations to your perineum and crack, also allowing the plug to 'rest' comfortably in the groove of your behind.
Material:
100% Medical Grade Silicone
Lube safe?
Only use with WATER of HYBRID lube. Do not use with OIL of SILICONE lube as this may damage the material.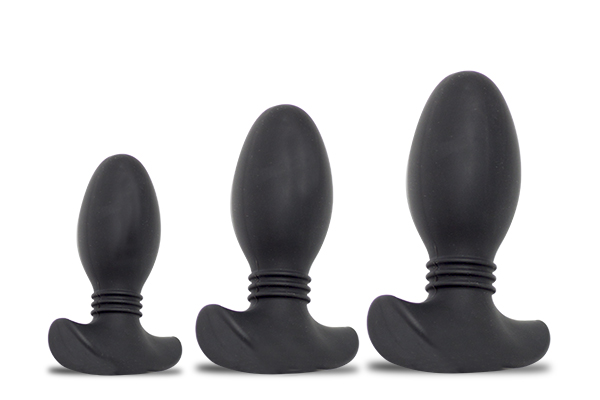 ---
Mr S Leather Deluxe Ball Gags BLACK or RED
This is the ULTIMATE Ball Gag. Nothing compares to the Deluxe Gag by Mr S Leather at Clonezone.
Featuring a beautifully supple leather strap, which is comfortable to wear for hours. How long will you be wearing yours, slave? The gag has been designed so that the ball does NOT come out of your mouth unless you take the gag off completely.
Features:
– Locking and adjustable
– Easy to put on, hard to get out of your mouth
– The synthetic rubber (latex free) that covers the balls extends out to cover the mouth straps, making it gentle on your mouth
– You'll need a really big mouth for the Large one
Size Options:
Small – 1 1/2 inch ball
Medium – 1 3/4 inch ball
Large – 2 inch ball
Material:
Strap – Mr S Leather
Ball – Synthetic Rubber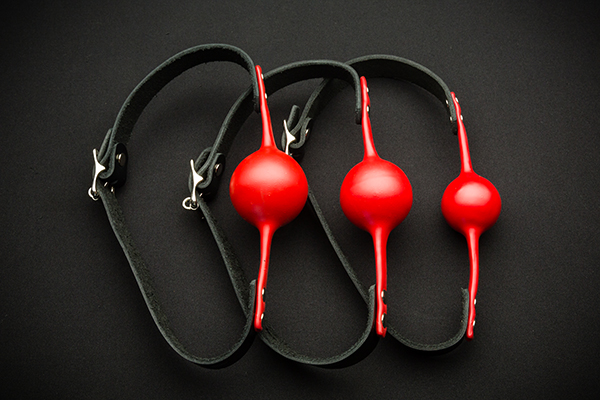 ---
Mr S Leather PITBULL Studded Puppy Mask in LATEX
Be the most popular PUP in the PEN with this incredible latex hood by Mr S Leather at Clonezone.
The PITBULL Hood features a spine of spikes on the skull as well as spikes in the muzzle. This sexy Puppy Headpiece is ideal for fetish events, puppy get-togethers and for playing in the dungeon.
You will ONLY find this hood in the UK at Clonezone. It's exclusively available here.
Features:
– Studded spine and muzzle
– Zipper Back
– Removable muzzle
– Thick rubber (45 gauge / 1.05mm)
– Pointed & flared ears
Size:
Brow Circumference: 23in / 58.5cm
Chin Over Crown: 26in / 66cm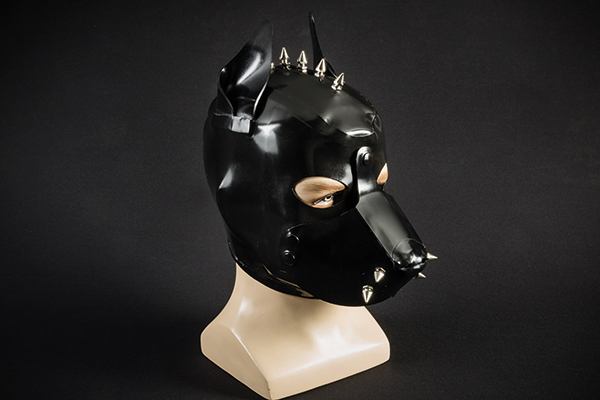 ---
The Deluxe SCREAM HOOD & MITTS Set by Mr S Leather
The undeniably luxurious SCREAM HOOD was over a year in the making, alone. This incredible piece of hardcore BDSM sensory gear is one of the most unique and complex hoods that we have ever seen. When we saw it at Clonezone, we knew that we had to bring this to the UK.
Inspired by the Edvard Munch painting of the same name but with a bondage twist. The mitts zip directly over the ears and only allow your sub to hear only muffled sounds. Attach a lock to the two black d-rings (one on the mitt and the other on the hood) and your sub can struggle all he wants and not pull the mitts away from his ears.
Padded eyes mean when the hood is on he has no sight. Grommets allow the sub to breathe so he can be in this hood for a long scene. Locking collar so you're in control of when the hood comes off. Lacing in the back gives you a nice amount of adjustability and lets you cinch this hood down nice and tight. The hood then zips shut so he's completely encased and you have a beautiful looking sub boy to use as you please.
You can also use the two pieces separately. The Padded Mitts ZIP together. The Mitts have a velcro closure and locking wrist strap.
Size:
Neck Size (15.5-16.5 inches)
Brow Size (22.5- 23.5 inches)
Chin Over Crown (26-26.5 inches)
Materials:
Mr S Leather for body
Brass for keyed-alike locks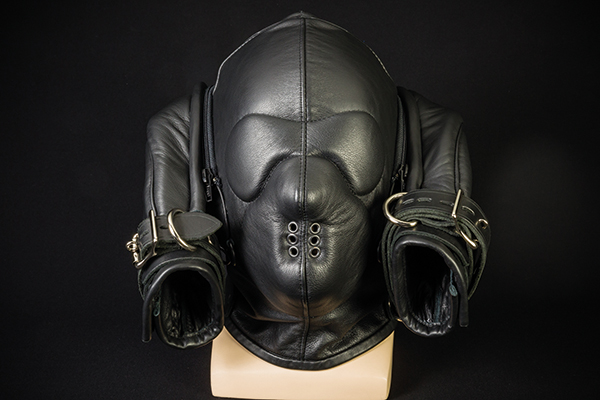 All items are available exclusively online at www.clonezone.co.uk