Last month, the UK's largest fetish store, Expectations, was the backdrop for the 2016 Mr Leather UK Contest. 
---
Contestants did their best to impress the judging panel, made up of Chris Dixon, Expectations General Manager Paul Turner, MSC London President and Tyrone, former Mr German Leather and gay leather campaigner.
Organised by MSC London and now in its 43rd year, the Mr Leather UK Contest is by no means a beauty pageant. It's a search for a working ambassador for the UK leather community in the UK and overseas.
Previous winners have taken part in International Mister Leather (IML) in Chicago and Mister Leather Europe and have lead the leather community in the Pride in London Parade, attended Folsom Europe, Manchester Leather Weekend, London Fetish Week and Sidney Mardi Gras!
After two rounds, the judges voted for hirsute hunk Joe King from Manchester, who as well as being crowned Mr Leather UK, will also fly out to Chicago in May to represent the UK at this year's IML. "I'd been preparing for the contest since I decided to enter just after Christmas, so when I heard my name I was floored, proud, ecstatic, numb, dazed, thrilled – it was utterly amazing!"
Joe exclaimed. "It was something I'd always wanted to do, although I never had the balls to go for it. But then to win the title is one of the biggest achievements of my life!" When asked by international porn star, Paul Stag, what he hoped to achieve in his new role as Mr Leather UK, the country's top Leatherman, over the next twelve months, a beaming Joe said, "Ha! 'Top Leatherman in the country' – love it!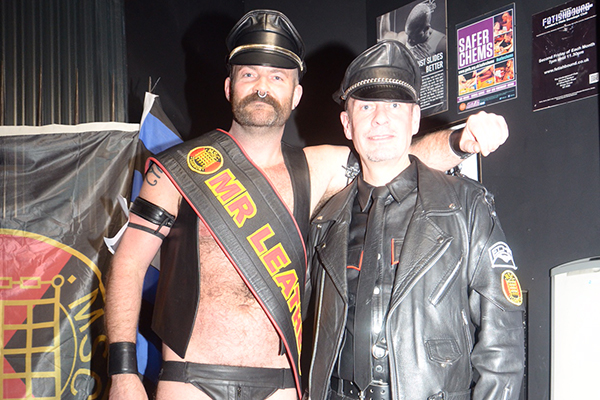 Well, I have a couple of projects I'd like to get underway: I want to find ways to help introduce new men to the scene who might not be confident enough to make the first move, attract guys who might live away from the main centres in the UK, maybe even help them set up other clubs around the country.
I also want to do some work around preserving and documenting the long history of the leather scene before it becomes forgotten for good. So many amazing men have paved the way for the liberties we all experience today, so I feel we need to honour them and preserve their stories.
Of course, there's going to be lots of amazing fun stuff too: I'll be doing my best to get to the Pride celebrations around the country, along with the various leather weekends in London, Manchester and Bristol.
Finally, I'll be representing the UK at International Mr Leather in Chicago in May and at Mr Leather Europe, as well as supporting our leather friends' activities around the globe… It's going to be a busy year – but I can't wait!"