Falcon Studios has just released its annual autumn two-part blockbuster in innovative fashion. 
Brought to you by award-winning directors Tony Dimarco and Bruno Bond, Bucks County 1: Into the Wild and Bucks County 2: Road to Temptation take you on a trip down the rural back roads of America, far from the big city.
The two-part movie is charged with youthful energy and the erotic shenanigans of the twelve handsome men that make up the cast. Exclusives Ryan Rose and Donnie Dean take centre stage, and they're joined by fan favourites Liam Magnuson, Connor Kline, Woody Fox, Jack King, Connor Maguire, Lance Luciano, Vance Crawford, Jason Goodman, Joey Cooper and Kip Johnson.
Falcon Studios has produced a complimentary, digital photo book available to fans for direct download that features stunning images captured by Grabby Still Photographer of the Year, Kent Taylor, and Edward Scott during the production of the blockbuster release. Additionally, several clips of exclusive behind the scenes footage are available for fans to view.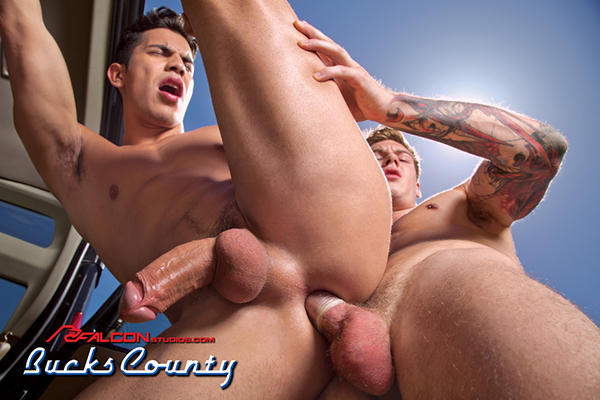 WIN!
EXCLUSIVE PHOTO BOOK
A hard copy, X-rated version of the book called The Men Of Bucks County is also available as a numbered collector's edition signed by the photographers.
We've managed to get our hands on a copy – unfortunately not signed – but if you want the chance to win it, send an email with your name and contact details to [email protected] with Bucks County Competition in the subject field. Alternatively, pop your details on a postcard and send it to QXMEN, Bucks County Competition, 2nd Floor, 23 Denmark Street, Soho, London WC2H 8NH. The competition closes at 5pm on Thursday 31st October when the winner will be drawn at random… Sorry guys, but the competition's open to UK residents only.