We've often see the words BLUF Member on guys' online profiles, but until recently we've never actually known what the acronym BLUF stood for? We knew it must be some sort of members club… But what kind? And what were we missing out on? 
We decided to speak to Nigel, Webmaster of the BLUF site, and here's what he told us…
QXMEN: So what does BLUF stand for?
Nigel: Breeches and Leather Uniform Fanclub.
And who is the club for?
For men around the world who are interested in leather uniforms; whether they just want to chat with other guys online, meet up in person, have sex, or socialise at a BLUF event. It's for those who hanker after a more intense leather look than just a harness and chaps; while the club doesn't have a formal hierarchy, many guys join because the police/military style or authority appeals just as much as the gear itself.
It strikes me that guys 'wear' their BLUF membership with pride, like a badge of honour… Why do you think this is? 
A variety of reasons; to many, I think it's a signifier that they're pretty serious about their leather – the amount they have, the effort they've put into getting the look that they want, and so forth. Especially before we revamped our web site (late 2009), I think there was also an element of quietly letting people know you were part of something that wasn't that well known in the mainstream.
When and why was BLUF started?
It was started in 1997 by our founder Leon Jacobs, when he was living in Canada, and wanted to meet guys who were into dresscode. It grew from there – a short history is at bluf.com/about. When Leon decided to step down in the summer of 2009, I volunteered to take over. Since then, I've rebuilt the website, and there have been a lot of small changes, but we try to ensure we keep the spirit of BLUF, even as we grow to something much larger than was ever envisaged.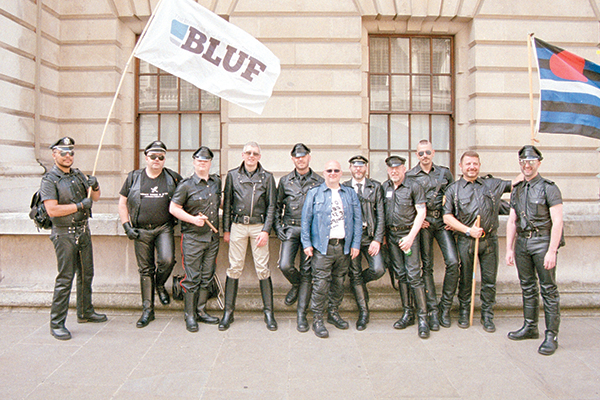 How many BLUF Members are there, and what kind of guys are they?
There are over 3000 at the moment – almost 3100. There's a wide range. We still have a lot of our original members from back in 1997, and we're growing fairly rapidly at the moment too. Some – especially those original members – are obviously older, in their 50s or 60s. But we are also attracting a number of younger ones, in their 20s – and it's great to see an interest in full leather from people at that age; it's not generally something you see a huge amount of on the commercial scene. I'd say that the bulk of our members are probably mid 30s to mid 40s (though, unlike other sites, we don't ask people to put their age on their profiles, so I can't say for certain) – that's probably the age when people have a clear idea of what they want, and can afford the decent leather gear. In terms of background, members come from all walks of life, and all around the word – we have members in over fifty countries (UK, Germany, USA, Netherlands and France are the top five, accounting for 75%).
And why become a BLUF Member?
To be part of a group that's much more than a dating site; BLUF meetings are social, as well as sexual. We have a discussion forum, a weekly email newsletter, ways for members to show they have, or to search for, someone with a spare room in cities around the world, or a guide to a city. You can use BLUF how you like – to chat, to ask in our forum about how to get your boots looking good, to flirt, to share your leather poetry. We ensure that people who aren't members can't see your details, including photos, and we try to make things as friendly and respectful as possible.
So, how do we join and how much does it cost?
It's free; and by that I mean completely free – we don't have different classes of membership, where people who pay get more features or better limits, or anything like that. Like the NHS, BLUF is free at point of delivery. All you need is photos of yourself in kit that matches our dresscode, and you can apply by email or online at bluf.com/join – but please do remember the dresscode. You'd be amazed how many people click though all the pages and still just upload a photo of them in a jockstrap.
What sorts of BLUF Events are there?
They vary, and I can't cover everything – this year we'll have had around 75 events across the world, which is our largest number ever. We've had a picnic on Hampstead Heath, BLUF invitations to galleries showing Tom of Finland exhibitions, or marching as a group at Pride. This weekend is a big social gathering in Berlin for Folsom Europe, which also sees a BLUF cigar smoker's gathering, and a party at New Action. Some parties are focussed more on the social, while at others the vibe is more sexual and cruisy – a lot depends on the venue. There are regular monthly socials in Chicago, LA and SF; our full calendar, with our events and other leather stuff, is at bluf.com/events
Can you tell us about the BLUF apps.
A club like BLUF needs to be available in the ways members want to access it. Our revamped site was launched at the end of 2009, and we have a mobile site. But that's not necessarily enough these days. So, we have three apps so far – BLUF Desktop Messenger lets you check your BLUF messages on a PC or Mac, see who's online, and also includes a drag and drop uploader for new photos, to make it as easy as possible for our members to update them. BLUF Messenger for Android provides most of the BLUF functions, including the calendar, travel plans, news, messaging, photo upload, and search, on mobile phones. We're hoping to be able to have something for iPhone users before too long – and we've created a BLUF API specifically to make it easy to extend in future, so we won't have to start from scratch if something new comes along.
You recently launched the BLUF Membership Card… What's it for and how can guys get one?
This is an attempt to ensure we get more donations, without changing the character of the site by charging people, or creating different classes of membership. A relatively small number of people used to donate. The membership card is available to any member who makes a donation – it could be as little as £1 – and a number of vendors will give people a discount if they present the card. We have around a dozen offers so far, including some leather shops in the UK, German, Spain and France, plus accommodation in Berlin and Barcelona, and we're working on adding more. We launched the card in August, and so far it seems to be encouraging more people to donate – I'd far rather all the members donated even £1 each than that a handful of people were paying for everyone else. We decided not to set a minimum level, because we don't want a situation where some people feel excluded.
If I had a Muir Cap, I'd tip the peak of it to you Nigel. Why? Because, due to BLUF being completely free, you and a group of assistants work on it on a purely voluntary basis. And we know that website hosting costs money and currently you rely entirely on voluntary donations for this. So, if guys want to make a donation, how can they do it?
Members can just click the About /Donate option on the BLUF menu of the site, and make a donation using PayPal or their credit card. As soon as you've made a donation, you'll automatically be able to download your membership card, if you want one. People who have donated in the last six months get a little star on their profile, but aside from admins, no one knows how much you donated, and you don't get any special favours or privileges. (There's one exception: if you donate at least £20, you can change your BLUF number to a lower one, if you want).
And if anyone wants to get involved with BLUF, say, by helping to manage the site, or offering their services with things like programming or translating the site, or maybe they want to organise an event or fundraiser, what should they do? 
Just send me a message, and let me know what you want to do. Like all voluntary groups, the best ideas are the ones that start "I would like to…" rather than "You should…" If you think there should be an event in your city, or an app for a particular device, or a fundraiser, we can help you spread the word, and use what resources we have – but we need people to do things, to charm, and cajole. Ultimately, BLUF things happen because the members make them happen, and that's what makes us different from other more commercial organisations.
Can you tell me what makes the BLUF site different from others.
We're not trying to be like every other hook-up site. A lot of what happens on the site is based around getting people together in person. So, members can create their travel plans, and each Monday our newsletters lists who's going where, so you can see if someone's visiting your town.
We have a very powerful search facility, and a system of 'tags' for profiles, so you can see who's willing to be a city guide in Milan, for example, or who has a guest room in Manchester. The whole site is available in French, English and German, with Spanish on the way. And when you look at someone's profile, you'll see the tags they used translated into your language, so even if you can't read the profile, you can get some ideas about them.
We include a database of leather venues, and vendors, as well as our events calendar and discussion forum, so you can tell people you're selling kit on eBay or looking for advice about cleaning your gear.
We expect our members to be civil to each other, and so don't have functions like a block tool to be abuse. We also insist on reciprocity – if you delete all the pictures from your profile, you can't see anyone else's, for example, and if you don't want people to know when you've looked at their profiles, you can't see when anyone's looked at yours.
We don't have nudity or sexually explicit images; 94% of all profiles have a clear face pic on them, and we're hoping to get that higher.
I think all of this helps to create a different atmosphere – it's not just about clicking on another profile to find "the one," though of course BLUF members hook up for sex. But they do much more too, and I think that the fact that this isn't being done to make anyone rich makes a big difference.
Other point: In January 2013, BLUF won the first 'X-Award' held at Belgium's Leather Pride, for "Fetish Organisation 2013" having previous won "Best Large Club" at Pantheon of Leather in 2008.
• To find out more go to www.BLUF.com